Severe abdominal pain after eating is not normal. There are a number of disorders that may cause this type of pain. See your doctor to understand your pain better and to find out the cause. Peptic ulcer disease, gallstones and mesenteric ischemia are among the most common causes of abdominal pain after eating.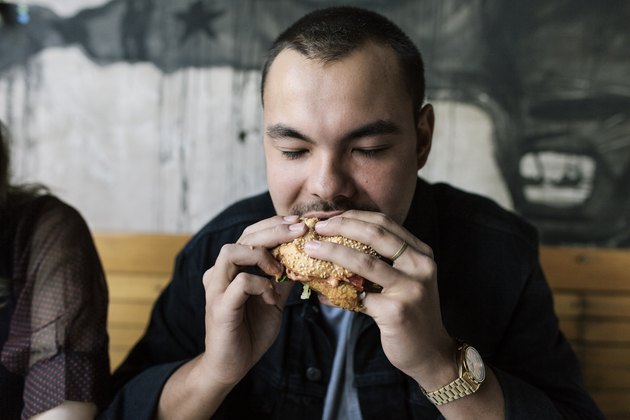 Peptic Ulcers
Peptic ulcers develop when the protective lining of the stomach or first part of the small intestine -- called the duodenum -- provides inadequate protection against the acid produced by the stomach. This results in an open sore in the wall of the stomach or duodenum called an ulcer.
Peptic ulcer pain is usually located in the upper left or upper central part of the abdomen. It is typically a sharp, burning or boring pain that sometimes travels through to the back. With stomach ulcers, the pain often begins during or shortly after eating. With duodenal ulcers, the pain usually improves with a meal but returns 2 to 3 hours after eating.
Peptic ulcers can bleed, producing tar-like or bloody stools and vomit that looks like coffee grounds. When severe, a ulcer can extend through the entire wall of the intestine or stomach., producing a hole. This perforation often causes severe, generalized abdominal pain and symptoms of shock, such as weakness, dizziness or loss of consciousness.
Gallstones
Gallstones typically produce crampy pain in the upper right area of the abdomen. The pain usually occurs within several hours after eating a meal, especially a meal containing fatty foods. Gallbladder pain can last for just a few minutes or for as long as a few hours. It is often accompanied by nausea and vomiting and may travel around the right side of the body to the back or right shoulder blade. It may even be felt in the right shoulder. While some sorts of abdominal pain may improve with changing body position, gallstone pain typically remains intense regardless of position.
If gallstones block the exit of the gallbladder, they can lead to acute inflammation of the gallbladder, called cholecystitis. This can cause severe and persistent abdominal pain, severe nausea and vomiting and a high fever. Gallstones may also block the tubes exiting from the liver or pancreas, producing inflammation of these tubes and organs.
Mesenteric Ischemia
Mesenteric ischemia occurs when cholesterol plaques develop within arteries supplying the intestines, reducing blood flow through these blood vessels. When a person eats, cells in the walls of the intestines increase their activity level as they help digest food. These cells require additional oxygen-carrying blood to do this. When the intestinal arteries contain plaque, eating a meal can precipitate pain if the blood supply is not adequate to meet the extra needs of these cells. Abdominal pain caused by mesenteric ischemia is typically severe and generalized. It tends to occur 15 to 60 minutes after eating and lasts for up to 2 hours. Mesenteric ischemia pain is often accompanied by weight loss and food fear -- being afraid to eat because of the pain it causes.
Other Disorders
Celiac disease is another possible cause of severe abdominal pain after eating. It leads to bloating and pain after eating meals containing gluten, a protein found in wheat, rye and barley. Lactose intolerance is another cause. It usually produces pain and diarrhea after eating a meal containing lactose, which is found in dairy products. Food poisoning may also cause severe abdominal pain. The pain is typically crampy and occurs several hours after eating contaminated food.
Next Steps
See your doctor if you have repeated episodes of severe abdominal pain after eating. Your doctor may prescribe medications, do tests or recommend dietary changes. You may also be referred to a gastroenterologist.
Seek immediate medical attention if you have severe pain that doesn't improve quickly, especially if you have other symptoms such as weakness, nausea, vomiting, tar-like or bloody stools, dizziness, loss of consciousness or a high fever.
Reviewed by Mary D. Daley, M.D.