The ratio of total cholesterol to HDL, or good, cholesterol is a "better predictor of heart disease" than total cholesterol or HDL cholesterol, according to "Dr. Dean Ornish's Program for Reversing Heart Disease." This finding is important because total cholesterol, HDL cholesterol, age, smoking and systolic blood pressure are the five most important factors in assessing whether you will have a heart attack in the next 10 years, according to "Your Guide to Lowering Your Cholesterol," a U.S. government report.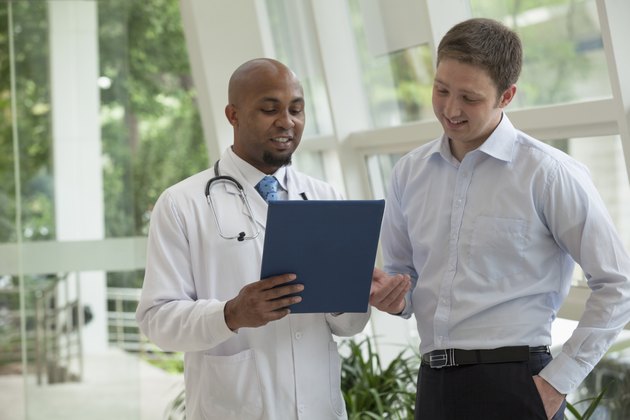 Significance
Cholesterol is a fat in your blood that is essential for the proper functioning of your heart, lungs, kidneys and cells, according to The Merck Manual of Medical Information. However, your body produces all the cholesterol you need. Excess blood cholesterol, which is often caused by your diet, can prevent blood from reaching your heart by building up in the arteries leading to your heart. HDL, or high-density lipoproteins, cholesterol has extra proteins that enable it to move lower-density cholesterol from your arteries and, eventually, your body.
Explanation
A total cholesterol level that is less than 200 mg of cholesterol per deciliter of blood is desirable, and an HDL cholesterol level that is at least 60 mg/dL reduces your risk of heart disease, according to the "Lowering Your Cholesterol" report. The total cholesterol to HDL ratio is your total cholesterol divided by your HDL cholesterol. If your total cholesterol is 200 mg/dL and your HDL cholesterol is 60 mg/dL, your total cholesterol to HDL ratio is 3.33.
Assessments
A lower total cholesterol to HDL ratio is better because you want to reduce your total cholesterol and increase your HDL cholesterol. Ornish wrote that "an ideal ratio would be less than 3.0," a ratio of 5.0 puts the average person at average risk of heart disease, a ratio of 9.5 doubles the average person's risk of heart disease and a ratio of more than 23 triples the average person's risk of heart disease.
Factors
Age and gender are crucial in assessing heart-disease risks. Men are at moderate risk of heart disease if they're 20 to 39 years old and their total cholesterol to HDL ratio is 3.7 to 5.1, if they're 40 to 59 and their ratio is 4.3 to 6.0, and if they're older than 60 and their ratio is 4.1 to 6.0, according to "Controlling Cholesterol The Natural Way." Women who are the same age have a moderate risk of heart disease if their ratios are 2.9 to 3.6, 3.1 to 4.0 and 3.3 to 4.8, respectively.
Solutions
The best solution for improving your total cholesterol to HDL ratio is a vegetarian diet, wrote Ornish. Long-term vegetarians studied by Ornish had an average ratio of 2.8. Marathon runners had the second-best ratio. Vegetarians' ratios worsened when they added dairy products, eggs or fish to their diets. Food with a lot of saturated fat and dietary cholesterol was especially harmful. You can also raise your HDL cholesterol and, thus, reduce your ratio when you exercise or stop smoking, Ornish added.