One of the most common uses for peppermint oil is as a flavoring for various types of candies, including mints, candy canes, peppermint sticks and chocolate confections. Ancient Egyptians used the peppermint plant as a medicinal herb, but an English botanist who found the peppery mint growing in a field first described it in 1696. Peppermint has been cultivated for its essential oil since the 1700s, and today the United States provides 75 percent of the world's fresh peppermint. Oil from the peppermint plant contains menthol, a pharmacologically important substance with multiple heath benefits, according to Harvard Health Publications.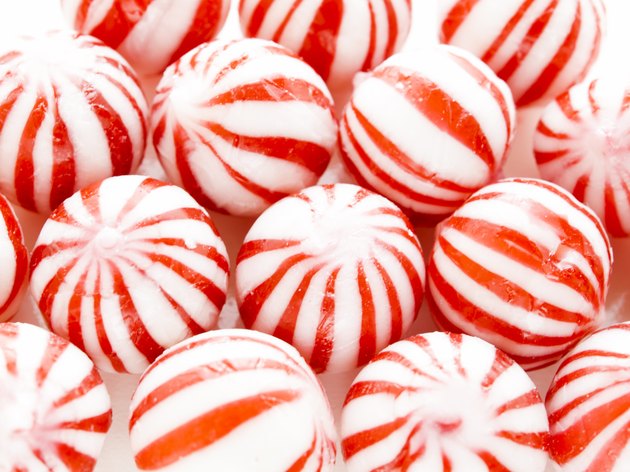 Gastrointestinal Benefits
After-dinner mints are popular not only because of the flavor, but because peppermint consumed after a meal can reduce gas and help with digestion. The cooling menthol in peppermint oil stimulates the stomach lining and eases stomach pain, so sucking peppermint candy may calm your upset stomach. If your symptoms of indigestion are related to gastroesophageal reflux disease, or GERD, peppermint products should not be used. Peppermint oil should never be given to infants or children. Candy made from peppermint oil is sometimes used to treat sea- and motion sickness, as it can numb the stomach wall and alleviate nausea and vomiting. Although peppermint candy may ease nausea from morning sickness during pregnancy, the Encyclopedia of Alternative Medicine warns that women who have miscarried in the past should limit their use of peppermint because large amounts may trigger a miscarriage. Women who are breastfeeding their infants should not use or consume products containing peppermint oil.
Respiratory Relief
The menthol in peppermint tea and candy may increase saliva production, which leads to swallowing and suppression of the reflex that causes coughs. Menthol can also act as a potent decongestant and can clear a stuffy nose and make it easier to breathe. Peppermint works as an expectorant because menthol thins mucus, loosens phlegm and breaks up coughs. Large doses of peppermint oil may be toxic, and pure menthol, which is poisonous, should never be ingested. Do not to confuse oil with tincture formulations.
Pain Relief
Peppermint-flavored candy can be used to dull some aches and pains. It may inhibit nerves that react to painful stimuli, and although this is temporary, you may enjoy a brief respite from an irritating cough or aching muscles. The menthol in peppermint candy, mints or gum produces a cooling sensation in your mouth because it stimulates nerves that sense cold temperatures, so sucking on peppermint candy may soothe an uncomfortable sore throat.
Tension Relief
Peppermint is a soothing herb that contains properties to help calm muscle spasms or cramps. Peppermint candy not only tastes good, but it can have both a relaxing or invigorating effect, depending on when you use it, according to the Farmers' Almanac.