Candy bars are never considered a health food. They are laden with fat, sugar and calories. But if you're craving something sweet, and hard candy just won't do, choose the lesser of several evils and go for the relatively low-calorie and nutrient-rich treats. By making an informed choice when you reach for a candy bar, you're more likely to eat mindfully and less likely to undo your diet.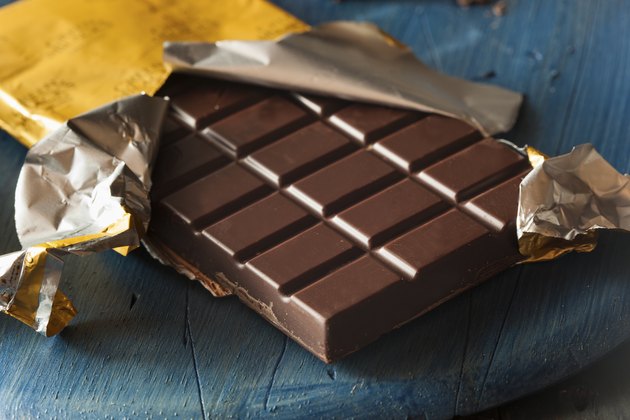 Figamajigs
As the name suggests, Figmajigs get their sweet taste and chocolate-like texture from figs, which helps reduce the caloric content. With only 130 calories per bar, they are also have relatively little fat, just 2.5 g. Figamajigs offer the bonus of 5 grams of fiber per bar, along with 1 grams of protein.
York Peppermint Patties
York Peppermint Patties have just 140 calories each and only 2.5 gramsof fat. They have no trans fats. The small size stops you from overindulging while still giving you your chocolate fix.
Crispy Cat Bars
These premium candy bars are crispy, nutty, chocolaty and made with all-organic ingredients. A bar contains 200 calories and a moderate 7 grams of fat, 3.5 grams of which are saturated. Crispy Cat bars are more expensive and less widely available than ordinary candy bars, but worth seeking out at natural-foods grocery stores.
Mounds
The coconut-filled Mounds chocolate bar is relatively low in calories, weighing in at 195 per bar. It has 11 grams of fat, which is common for regular candy bars. Its redeeming factor is 2 grams of protein, which can help you feel a bit fuller and less likely to crash from the sugar.
Chunkie
Despite its name, Chunkie bars have fewer calories than many other candy bars. They have 173 calories each, along with 10 grams of fat and 3 grams of protein, making them a more attractive option than other fat-laden offerings at the candy store.
M & M Minis
While not a traditional candy bar, a 1-ounce tube of M&M Minis can help you satisfy a sweet tooth without doing too much damage to your waistline. With 150 calories and 7 grams of fat, they're healthier than candy bars filled with fudge, caramel and nougat.
100 Grand
With a crispy, creamy filling, you would expect a 100 Grand bar to be sky-high in calories and fat, but it has a moderate 180 calories per bar and 8 grams of fat. Still too high to be considered a healthy option, it won't completely ruin your diet if you sneak a bite.
Lindt Chocolate Bars
Drugstores and grocery stores carry Lindt brand Swiss chocolate bars for a decent price. The delightfully rich 70% cocoa bar has a hefty 250 calories per 4-square serving and 19 grams of fat, 12 grams of which are saturated. However, this serving has only 12 grams of sugar and 3 grams of dietary fiber, and the large amount of cocoa contributes antioxidants to your diet. Eat only 2 squares to get a relatively healthy chocolate fix.
Dove Bars with Nuts
A Dove Silky Smooth Almond Bar has 190 calories and 12 grams of fat, 6 unsaturated. The almonds add a health boost, contributing heart-healthy monounsaturated fat and decrease the bar's sugar content to a moderate 16 grams.
Hershey's Special Dark
Hershey's Special Dark Chocolate bar slides into the bottom of the list by offering a 195-calorie chocolate fix, along with 12.5 grams of fat per serving. It's relatively high in sugar, with 21 grams per par.