An appropriate squat weight varies greatly from one individual to another. Factors such as your body weight, gender and current fitness level all contribute to determining the amount of weight that will yield the strength results you want. Although you may be tempted to immediately use a bar and perhaps even load it with plates when you first begin a squat routine, it is important for you to take time to ensure you are using the proper mechanics and form before determining a squat weight that works to realize your unique fitness goals.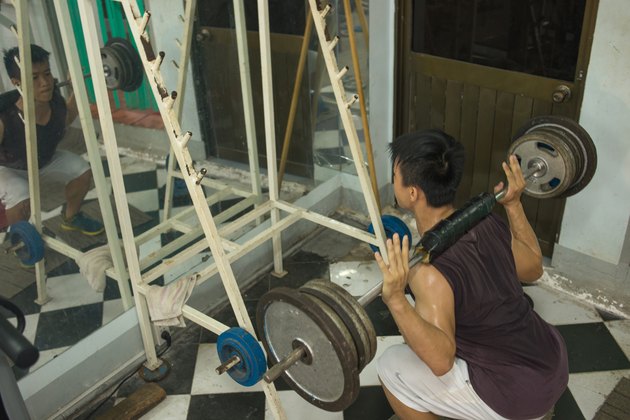 Body Weight Before Added Weight
When you begin a squat routine for the first time, or when you want to increase your range of motion when squatting, begin by using your body weight only. This will help you develop strength, proper form and stability. When you can properly perform body weight squats with good form, you can begin to gradually increase your weight. To ensure you are squatting safely and with good technique, ask a certified personal trainer or other fitness professional to observe your form as you squat.
Form First, Resistance Follows
Begin a proper squat by standing with your feet about hip-distance apart and your toes slightly pointed out. Place your fingertips lightly behind your head. Engage your core as you bend your knees and send your hips back and down. Keep your knees in line with the second toe of your feet, making sure your knees do not extend past your toes. Your body weight should be in your heels and evenly distributed between your feet. Lower your hips until your thighs are parallel with the floor and then exhale as you straighten your knees and return to your starting position.
Options with Weights
Once you establish proper squat form using your body weight and can successfully complete 12 repetitions before fatiguing, you can begin to add weight to your squat routine. Start by adding five to 10 percent of your body weight. If you weigh 150 pounds, you may consider starting your weighted squat routine with two 10-pound dumbbells. You can hold weights in different ways when performing squats. Holding dumbbells in front of your shoulders, resting a bar on top of your back and holding a bar in front of your chest are all weighted-squat options. The placement of your weight and the depth of your squat will play important roles in determining how much weight you are able to properly squat.
New Normal With New Strength
Whether you are doing shallow, parallel or deep squats, and regardless of your weight placement, you want to make sure the weight you are squatting is challenging enough to complete eight to 12 repetitions before feeling muscle fatigue). When you can easily complete more repetitions, gradually increase your weight by five to 10 percent. As you become stronger, the amount of weight you consider normal for your fitness level will change.
Normal Standards
Strength standards suggest that an adult male who weighs 165 pounds can squat 250 pounds as an intermediate athlete, and an adult female weighing the same can squat 150 pounds when performing deep squats. Although these standards may give you an idea of an average squat range, it is important to listen to your body and modify your weight selection accordingly to determine the normal that is personally right for you.