Although general calorie recommendations exist for weight loss, the specific number of calories a man needs to safely and effectively lose weight is highly individualized. Men often need more calories than women during weight loss. However, activity level, metabolism and current calorie intake also affect weight-loss calorie needs.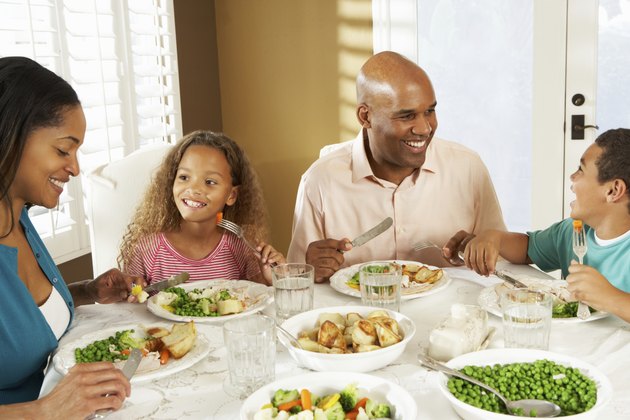 General Requirements
The National Heart, Lung and Blood Institute suggests most men generally require 1,200 to 1,600 calories daily to lose weight at a safe pace. However, men who are very active or tall men with large frames may require additional calories to lose weight effectively without feeling hungry. Very low-calorie diets containing 800 or fewer calories daily may be appropriate for obese men at high risk for obesity-related health conditions, but only when used under medical supervision.
Calorie Deficit
A rule of thumb for safe and effective weight loss is to reduce your current energy intake by 500 to 1,000 calories daily, according to the Centers for Disease Control and Prevention. For example, if you generally consume 2,500 calories a day, aim for 1,500 to 2,000 calories daily during weight loss. Doing this should help you drop about 1 to 2 pounds weekly, which is slow but better for long-term success. For a more significant weight loss of 3 pounds or more weekly, medical supervision is recommended.
Cutting Calories
Several strategies are often effective for cutting calories and successfully losing weight. For example, try drinking 500 milliliters -- equivalent to about 2 cups -- of water before meals, suggest authors of a review published in 2013 in "American Family Physician." Since high-protein foods help increase satiety, boost your intake of lean meats, skinless poultry, seafood, low-fat dairy foods, egg whites, nuts, seeds and legumes in conjunction with your reduced-calorie diet. Fiber-rich foods, such as legumes, nuts, seeds, whole grains, veggies and fruits, also boost satiety and slow gastric emptying.
Considerations for Exercise
Men who increase their physical activity level may not need to decrease calories for effective weight loss. For example, men who expend an extra 500 calories a day will lose about 1 pound weekly – as long as he doesn't compensate for the increased calorie expenditure by eating additional calories. According to Harvard Health Publications, a 185-pound man will burn about 622 calories per hour biking on a stationary bike at a moderate pace, 400 calories per hour walking at a pace of 4 miles per hour and 888 calories in an hour running at a pace of 6 miles per hour. Men who are heavier than 185 pounds will burn even more calories performing the same physical tasks.
Other Resources
Using LIVESTRONG.COM's MyPlate app, a free online calorie counter, can help track your daily caloric intake to achieve your overall weight loss goals. The U.S. Department of Agriculture's Daily Food Plan offers a free online meal planner that helps you meet your reduced calorie needs. Making an appointment with a Registered Dietitian is another great way to obtain an individualized weight-loss meal plan.
The free LIVESTRONG MyPlate calorie tracker app for iPhone and Android has helped millions of people lose weight the healthy way -- by getting support from an active community as they track their eating and exercise. Consistently a top-rated app, MyPlate offers the latest technology in an easy-to-use tool that includes millions of foods and recipes, 5-minute in-app workouts and a robust support community.