Pectin is a type of viscous dietary fiber. According to a report by the U.S. Department of Agriculture, viscous fibers reduce the glycemic response of foods by delaying gastric emptying and therefore delaying absorption of glucose by the body. Pectin also plays a role in normalizing blood lipid levels, especially cholesterol.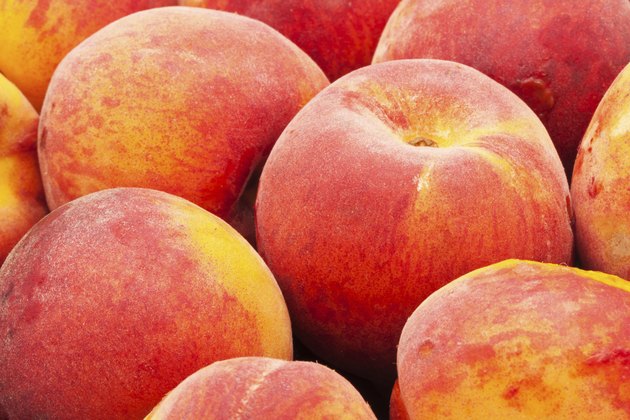 Jams and Jellies
Pectin is industrially extracted from some types of fruit to create jams and jellies and was first isolated in the 1820s. Citrus peels and apple pomace are often used industrially for their high pectin content. Fruits high in pectin can also be mixed with low-pectin fruits including strawberries and red currant to be made into jams and jellies.
Fruits High in Pectin
According to the USDA, fruits contain the greatest amount of pectin -- all fruits are made up of at least 5 to 10 percent pectin. Peaches, apples, oranges, grapefruit and apricots contain the highest amount of pectin among fruits. For example, one small peach contains 0.91 gram of pectin, while 1 cup of apple slices contains 0.654 gram of pectin.
Vegetables and Legumes High in Pectin
Typically, the dietary fiber found in vegetables and legumes is made up of around 15 to 20 percent pectin, according to the USDA. Among vegetables, carrots contain one of the highest pectin contents with 0.576 gram per large carrot. Tomatoes and potatoes are also high in pectin. One medium tomato contains 0.369 gram of pectin, while a medium white potato contains 0.639 gram. Peas contain one of the highest pectin concentrations among legumes with 0.96 gram per 1-cup serving.
Grains and Other Sources of Pectin
Due to the gelling properties of pectin, it is added to several foods for stabilization. For example, pectin is often used in soft drinks, desserts and dairy products. Some types of grains are especially high in pectin, such as cornflakes with 0.75 gram of pectin per 1-cup serving. Some types of bread are also high in pectin with 0.261 gram of pectin per slice.