Stomach acid, also referred to as gastric acid is a digestive liquid consisting of hydrochloric acid that is produced in the stomach. The contents of stomach acid work to digest food and kill harmful bacteria ingested into the system. Symptoms of excessive stomach acid may be similar to those of low stomach acid. There is potential for mild to severe health consequences when the body produces too much stomach acid.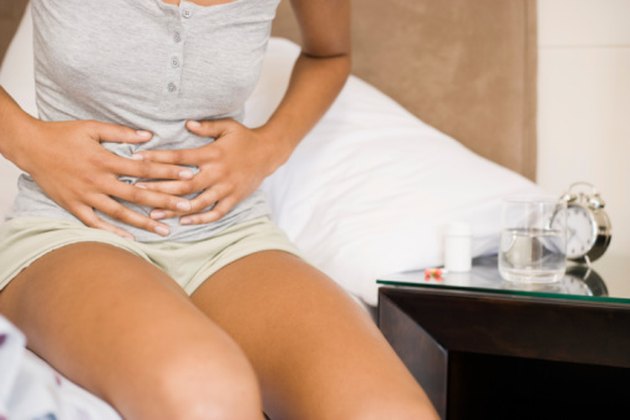 Mild Symptoms
While these symptoms may be considered mild, they can be extremely uncomfortable for the individual suffering from an excess production of stomach acid. Common symptoms of excessive stomach acid are bloating, belching, flatulence and heartburn. These symptoms are often a precursor to acid reflux and can occur simultaneously. Excessive acid production in the stomach potentially causes excess gas that may gather in the stomach, causing bloating or be released via belching or flatulence.
Acid Reflux
Acid reflux, also known as Gastrointestinal Reflux Disease or GERD, occurs when contents of the stomach regurgitate or travel backward through to digestive system into the esophagus. According to Patient Health International, more acid and food content within the stomach, the more likely for reflux to occur. The individual experiencing reflux usually will have had other symptoms such as those listed above. Due to the corrosive nature of the contents of stomach acid, it is important to consult a healthcare provider when symptoms occur. Stomach acid that causes reflux may cause corrosion of the esophagus, leading to ulceration.
Ulcers
Ulcers are open sores that are often found on the mucous linings within the body. Ulcers found in the stomach are referred to as gastric ulcers. Under normal conditions the lining of the stomach is protected from the harsh contents of stomach acid. In the event that there is an excessive amount of stomach acid in the system, the lining of the stomach may not be able to defend itself against the acid and it may begin to destroy the lining. Associated with the ulcers can be bleeding and in severe cases perforation of the stomach may occur. This is a potentially life-threatening complication that should be considered emergent, in which the contents of the stomach can leak into the abdominal cavity.