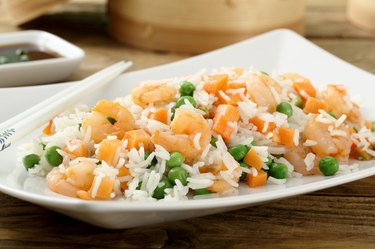 Lean Cuisine is a line of low-fat frozen dinners designed for dieters and is available in your local grocer's frozen food section. Nutrisystem is a weight loss program that provides all your meals prepackaged through the mail. These foods are designed by a nutritionist to eliminate the need to plan your diet program.
Benefits
Both Lean Cuisine and Nutrisystem provide prepackaged meals that complement a well-balanced diet and weight-loss program. All meals are designed by nutritionists for proper nutrition with low calorie content. Both meal programs provide foods that are easy to prepare and do not take a long time to cook.
Meal Planning
Lean Cuisine foods are available in the frozen food section of the grocery store. They do not create your weekly meal choices or offer any packaged snack foods, daily meal choices or daily dietary fresh food requirements. They do offer a "Plan Your Meals" section on the company website.
Nutrisystem foods are ordered monthly and are delivered to your home. All meals are planned out in advance. You choose your meal options from breakfast, lunch, dinner, snacks and dessert sections on the monthly food order form, according to the Nutrisystem website. Except for personal choices, Nutrisystem is designed so you do not have to design a diet meal plan. The company's website information notes that Nutrisystem works because it is simple.
Both plans require that you purchase fresh vegetables and fruits in addition to the regular meals.
Support Services
Lean Cuisine has limited support services. The company website offers a "Tools & Trackers" section to help answer questions and plan meals. You need to register to use the tools. The support is mostly in FAQ question-and-answer format with nutrition and exercise advice provided as well.
Nutrisystem offers a "Tools and Community" section on their website. The Nutrisystem tools consist of weight and measurement logs, progress tracker, food diary, meal planner, grocery guide, dining-out guide and an exercise tracker. They also offer live counseling and support services.
Meal Plans
Lean Cuisine does not offer meal plans. They offer a full line of frozen dinner products. Nutrisystem offers a D plan designed for diabetics, a silver plan for seniors, women's meal plans and men's meal plans.
Cost
Lean Cuisine meals average $3 per entrée, which is around $12 per day, according to 2010 pricing. This does not include snacks, dessert, fresh vegetables or fruits.
Nutrisystem costs around $11 per day, according to the Nutrisystem website advertising for 2010 products. This does include snacks and dessert, but does not include fresh vegetables or fruits.