If you reflexively order a large popcorn whenever you head to the movies, a low-carb diet might throw off your routine. Popcorn contains carbohydrates and could negatively affect your count for the day. If you're following a moderately low-carb diet that includes 100 to 150 grams per day, you might choose to treat yourself occasionally to a few cups. Following an extremely low-carb plan that calls for 50 or fewer grams of carbs per day means that popcorn is off the menu.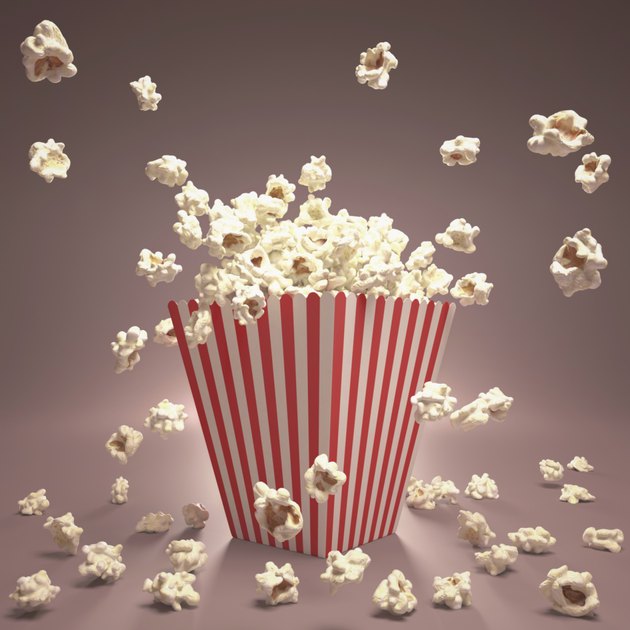 Popcorn Carb Counts
Most popcorn, whether it's microwaved, air-popped or cheese-flavored, offers about 5 grams of net carbohydrates per 1-cup serving. Net carbs are the carbohydrates that impact your blood sugar and are counted by most low-carb plans. You figure net carbs by subtracting an item's fiber grams from its total carb count.
The problem with popcorn is that you rarely stop at a cup. A small popcorn at many movie theaters equals 8 cups, and a large has as much as 20 cups, which comes out to 40 to 100 grams of carbohydrates in one sitting. If you make popcorn at home, you'll have to precisely measure your serving to ensure you don't overeat this easy-to-overdo snack food.
How to Include Popcorn on a Low-Carb Diet
Even if you're on a moderately low-carb diet consisting of 100 to 150 grams of carbs per day, eating several cups of popcorn puts a significant dent in your intake for the day. Although popcorn does contain 1 gram of fiber per cup, it has very little other nutrients. It offers only minimal protein and almost no notable vitamins or minerals.
If you do choose to eat popcorn, you'll have to minimize other sources of carbohydrates that day. This means you might skip 1/2 cup of brown rice with dinner, which offers 20 grams of net carbs; 1/2 cup of sweet potato with dinner with 17 grams of net carbs; or a cup of raspberries as a snack, which offers 7 grams. When you eliminate these foods, though, you also eliminate the valuable nutrients they contain. This makes popcorn fine as an occasional treat but not as a regular fixture in your meal plans. You're better off spending your carb grams on highly nutritious, fiber-rich foods.
The Carbs in Sugary Popcorn
Gourmet popcorn covered in chocolate, caramel or sweet fruity flavors contains added sugar and, as a result, offers more carbohydrates than plain, butter or cheese versions.
For example, 1 cup of caramel-coated popcorn contains about 32 grams of net carbs. Kettle corn, which is popped with butter or oil and sugar, has more carbs, too -- about 7 grams of net carbs per cup.
Low-Carb Snack Options
Consider low-carb alternatives to popcorn for your next snack. If you crave a crunchy, munchable snack, you could opt for pork rinds, which are naturally carb-free because they are fried pork skin. Pork rinds contribute a large amount of saturated fat and sodium to your diet without adding a lot of other nutrients, though, so don't make them a regular habit.
Cut up vegetables, such as red bell pepper and jicama, and diced cheese are naturally very low in carbohydrates. Nuts also make low-carb snacks, with 1 ounce of walnuts containing 3 grams of carbs and 1 ounce of macadamia nuts having 4 grams. Cashews, almonds and pecans are other choices, but they have carb counts similar to a cup of air-popped popcorn. Nuts tend to be more filling than popcorn, but it's still possible to overeat them in one sitting, so monitor your intake.