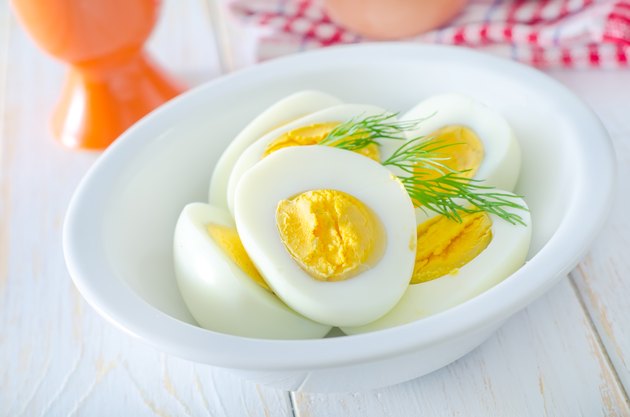 As with most fad diets, an egg and grapefruit diet is not only unhealthy, but dangerous. While eggs and grapefruit contain many nutrients, restricting yourself to those foods for a number of days should be avoided.
Egg and Grapefruit Diet
An egg and grapefruit diet — a diet that, as you may have already guessed, entails consuming eggs and grapefruit as a meal for several consecutive days — is what can be deemed a fad diet. Even though both eggs and grapefruit are low in calories and have nutritional benefits, eating them alone will not only cause you to fall short of your daily nutrient needs, but can also be harmful to your overall health and well-being.
According to Winchester Hospital, most grapefruit diets are low in calories, yet they deprive you of vitamins and minerals. Generally, it's wise to steer clear from overly restrictive diets. Fad diets, says Better Health Channel, may provide results in the short term, but are not not sustainable. In other words, grapefruit and hard boiled egg diet results are likely only appealing in the short-term.
If a weight loss program excludes or restricts several food groups or nutrients or promises a quick fix, it may very well be a fad or trendy diet without substantiated information.
With the elimination of key foods, an egg and grapefruit diet could cause symptoms, such as weakness and fatigue, nausea and headaches and constipation. Consult your doctor if you plan to go on a strict food regimen.
Eggs and Grapefruit: Nutrition Facts
While an egg and grapefruit diet it not recommended, it's perfectly healthy to supplement your normal diet with the two foods. In fact, both egg and grapefruit are full of healthy vitamins and nutrients. According to the Egg Nutrition Center, eggs contain protein, riboflavin, selenium, vitamin D, choline, lutein and zeaxanthin, nutrients good for the eyes, immune health and cell functioning.
Grapefruits boast an impressive list of vitamins as well. They're an excellent source of vitamin C, as well as a source of many other nutrients: vitamin A, vitamin B6, fiber, thiamin, folate and potassium, says the California Department of Public Health.
That said, each food comes with certain health risks. The U.S. Food and Drug Administration (FDA) warns that grapefruit and certain drugs don't mix. Medications for high blood pressure or arrhythmia are especially known to cause negative interactions. The severity of the interaction may depend on the medication, the person and the amount of grapefruit or grapefruit juice consumed.
Eggs are known to increase the risk of heart disease. However, there's a wealth of current research that belies this widely held idea. One May 2017 review in Nutrition, states that consuming three eggs per day for 12 weeks didn't increase heart disease risk in those with metabolic syndrome. An August 2017 review in the Canadian Journal of Diabetes found that egg consumption did not affect major cardiovascular disease risk factors.
Healthy Ways to Lose Weight
An egg and grapefruit diet or any fad diet for that matter, may not be the healthiest route for those trying to lose weight. Instead, you should consider eating a healthy balanced diet and exercising regularly. The Centers for Disease Control and Prevention (CDC) lays out a healthy eating plan that emphasizes fruits, vegetables, whole grains, fat-free or low-fat milk and milk products, lean meats and foods low in trans fats.
Better Health Channel suggests avoiding crash dieting and identifying, then avoiding situations in which you overeat. They also suggest eating a wide variety of food from all food groups, replacing sugary drinks with water, cutting down on saturated fats and alcohol and trying to balance more food with more exercise.
As a general matter, exercise is good for weight loss and even 30 minutes per day of exercise can make a difference, says Better Health Channel. Even if you're not getting on a treadmill or jogging in the park, you can incorporate exercise into your everyday routine: walking the dog, taking the stairs instead of the elevator, getting off one stop early on the train to walk.