Finding time for a daily bicycle ride won't just provide fresh air and solitude, but it can also play a role in your overall health. Bicycling is one of the quickest ways you can burn calories, notes Harvard Health Publications. Your pedaling speed determines your calorie burn, but a 30-minute ride burns several hundred calories.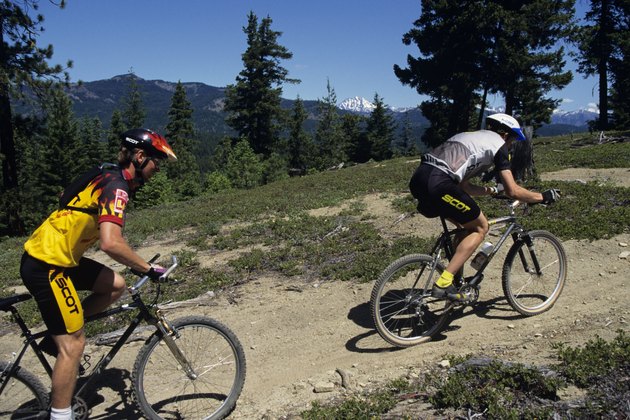 Rapid Calorie Burn
Bicycling at a speed between 12 and 14 mph helps a 175-pound person burn about 346 calories, according to HealthStatus. The same person burns about 420 calories in 30 minutes of pedaling at a pace of 14 to 16 mph. If you aren't interested in bicycling on the road, swap your road bike for a mountain bike. In 30 minutes of mountain biking, a 175-pound person burns about 336 calories. At the gym, the same person burns about 451 calories pedaling a stationary bike at a vigorous pace.
Pedaling for a Healthier Body
Riding your bicycle is an effective way to improve your overall health. As a low-impact sport, bicycling won't lead to joint pain as you burn calories, build muscle and strengthen your body. This activity also improves your cardiovascular health, mobility and bone strength, while helping reduce your stress.