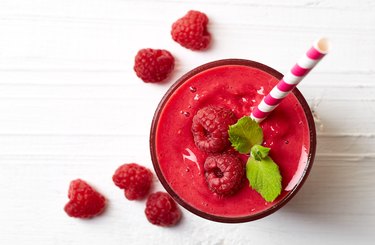 The Atkins diet is a popular low carbohydrate diet that promotes healthy eating and weight loss. This meal plan has evolved so that Atkins isn't just a single diet, but various diet plans that include products that can be tailored to each individual's dietary goals and needs. Atkins sells frozen foods, meal kits, snacks and shakes filled with nutrients that can contribute to a healthy, balanced diet.
What Is the Atkins Diet?
Atkins sells a variety of products that are low-carb-diet friendly. The company markets several frozen foods, meals kits, protein shakes and snack bars. Some of the products overlap. For instance, you can buy Atkins drinks as regular shakes, protein and fiber shakes, or sold within packaged meal plans.
What Are Atkins Shakes?
Atkins shakes come in two main types: regular Atkins shakes and Atkins Plus (protein and fiber shakes), both of which are high in protein. Atkins shake flavors include:
Chocolate Banana Energy Shake

Vanilla Cream Shake

Creamy Chocolate Shake

Cookies and Crème Shake

Café Caramel Shake

Dark Chocolate Royal Shake

French Vanilla Shake

Milk Chocolate Delight Shake

Mocha Latte Shake

Strawberry Shake

While these shakes have varying amounts of fiber and different vitamins and minerals because of their different ingredients, all of them have 15 grams of protein. In addition to these products, you can also buy Atkins powdered shake mixes – Milk Chocolate Protein Powder and Vanilla Protein Powder. There are also two high protein and high fiber shakes: Atkins Plus Chocolate and Atkins Plus Vanilla. These products have a much higher protein content, with 30 grams of protein, along with 7 grams of fiber and 20 vitamins and minerals.
Drinking Atkins Shakes
Although the Atkins diet is a low-carbohydrate, ketogenic diet, it hails itself as a better diet than other low-carb or ketogenic diets because it allows you to eat more macronutrients. Consequently, Atkins tries to include a variety of foods in your diet. This means the Atkins shakes are meant to be snacks or to supplement your diet. The only exceptions are Atkins Plus Shakes – thanks to their high nutritional content, these shakes can also be considered meal replacements.
Even when you drink a shake as a meal replacement, the Atkins diet does not consider shakes your only source of nutrition. Instead, Atkins believes that shakes and bars alongside balanced whole-food meals can help you achieve your dietary goals. Several research studies have confirmed this; a 2014 study in the Journal of Biomed Central Woman's Health and a 2018 study in the Journal of Obesity Surgery showed that liquid meal replacement products can help people lose weight and adhere to their diet's rules. Although you can drink protein-rich Atkins Plus shakes as a meal replacement for a short amount of time, always consult your doctor before starting a new diet or using meal replacements long-term.