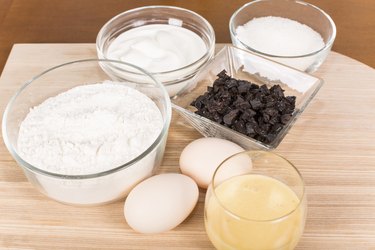 A creamier, thicker version of traditional milk, evaporated milk has had half of its water removed through a heating process. The nutrients in the milk are retained, however, making it a nutritious addition to your diet. In addition to regular evaporated milk, the Carnation brand also offers low-fat and fat-free versions, each having its own nutrition facts. Learning how they stack up against each other will enable you to choose the best evaporated milk for your purposes.
Evaporated Milk Nutrition Basics
One ounce of regular Carnation evaporated milk contains 40 calories and 2 grams of fat, of which 1.5 grams are saturated. That's about 7 percent of your daily saturated fat intake. Limiting your saturated fat intake can keep your blood pressure and cholesterol levels normal, according to the Harvard School of Public Health. There are also 10 milligrams of cholesterol in 1 ounce of regular Carnation evaporated milk, which is only about 3 percent of your daily limit. One ounce of Carnation low-fat 2 percent evaporated milk contains 25 calories, 5 milligrams of cholesterol and 0.5 gram of fat, of which none is saturated. Fat-free Carnation evaporated milk has 25 calories and no fat or cholesterol.
Powerful Protein
Like traditional milk, evaporated milk contains protein, a nutrient that helps supply you with energy and keeps your cells, tissues and muscles working normally, according to the Centers for Disease Control and Prevention. One ounce of regular, reduced-fat or fat-free Carnation evaporated milk contains 2 grams of protein. Women need 46 grams of protein per day, so a one ounce serving of evaporated milk is 4 percent of that goal. Men should have 56 grams of protein each day, and one ounce portion of evaporated milk is about 3.5 percent of that recommendation.
Let's Hear It For Calcium
Though evaporated milk doesn't supply as much calcium as regular milk, it's still a decent source of this bone-building mineral. A one ounce portion of regular, reduced-fat or fat-free Carnation evaporated milk supplies 8 percent of your daily recommended amount for calcium. That translates to about 80 milligrams of calcium toward the 1,000 milligrams you need each day. For comparison, an 8-ounce serving of regular milk contains about one-third of the calcium you need for the day.
Using Evaporated Milk in Your Diet
Carnation evaporated milk will keep for several months on the shelf, but once it's opened, any unused amount should be refrigerated immediately. If you're watching your intake of saturated fat or cholesterol, the reduced-fat and fat-free versions of Carnation evaporated milk are good options. The drawback, however, is that there is slightly more sodium in the fat-free and reduced-fat versions, though the milk is still quite low in sodium. Use Carnation evaporated milk in place of cream in your coffee or tea, or use it in cream soup or casserole recipes in place of heavy cream or half-and-half.