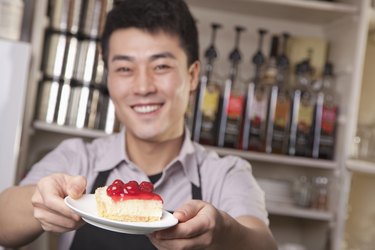 Famous for its generous portions, The Cheesecake Factory restaurant provides diners with more than just cheesecake, offering a full menu of distinctive dishes. Yet the restaurant chain's protective nature kept its nutritional information a mystery until a new restaurant disclosure law in the state of Washington finally made the stats available for all menu items, including the original cheesecake.
Identification
The Cheesecake Factory's Original Cheesecake has a simple graham cracker crust and sour cream topping.
Calories
A single slice of The Cheesecake Factory's Original Cheesecake contains 707 calories, 29 g of saturated fat, 425 mg of sodium and 62 g of carbohydrates. The restaurant also offers a low-carb version flavored with Splenda that has 570 calories.
Varieties
The Cheesecake Factory makes more than 30 different varieties of cheesecake. Adam's Peanut Butter Cup Fudge Ripple Cheesecake has 1,326 calories per slice, making it the most decadent choice on the menu. The Fudge Brownie Cheesecake is not far behind at 1,265 calories, followed by the White Chocolate Caramel Macadamia Nut Cheesecake at 1,222 calories.