Chicken drumsticks tend to be a favorite of kids and adults alike. How you prepare them, however, makes a big difference in their nutritional value. Baked drumsticks without the skin are much healthier than battered and fried drumsticks with the skin on.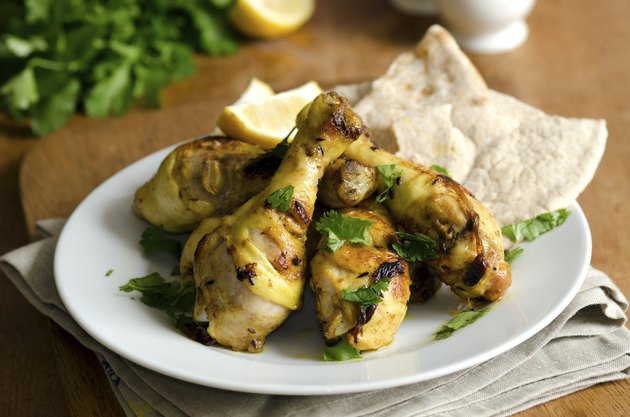 Macronutrient Makeup
A roasted drumstick without the skin contains 180 calories and consists of 21.9 grams of protein and 9.7 grams of fat, including 2.6 grams of saturated fat. This is 15 percent of the daily value for fat and 13 percent of the DV for saturated fat. The skin adds 15 calories and 0.8 gram of fat. Batter and fry that drumstick, and the calories increase to 200, the fat to 12.7 grams and the saturated fat to 3.3 grams. Too much fat or saturated fat increases your risk for obesity, high cholesterol and heart disease.
B Vitamins
Each chicken drumstick provides 10 percent of the daily value for pantothenic acid and riboflavin, 18 percent of the DV for vitamin B-6 and 26 percent of the DV for niacin. These B vitamins help with metabolism and keep your skin and hair healthy.
Major Minerals
Chicken drumsticks also supply essential minerals, including 14 percent of the DV for zinc, 19 percent of the DV for phosphorus and 35 percent of the DV for selenium. All three of these minerals are essential for forming healthy DNA in cells and play other roles in the body as well.