Fuji apples are a variety of apple that originates in Japan. They are yellowish-green in color with red highlights. Harvested in September and October, Fuji apples are sold in U.S. supermarkets year round.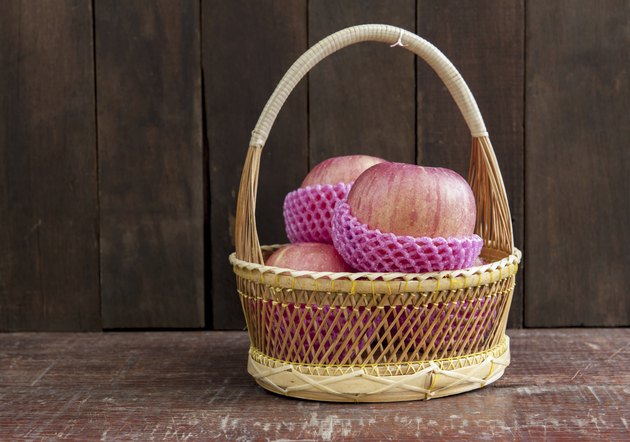 Calorie Information
Fuji apples are a healthy addition to most diets. They have no fat, sodium or cholesterol. A medium-sized apple weighs about 154 grams and provides 80 calories. The FDA categorizes Fuji apples as a low-calorie food. Calories come from carbohydrates, proteins, fats and sugar. Any calories that your body does not use is stored as fat.
Sugar and Fiber
A medium Fuji apple contains about 17 grams of sugar and provides 5 grams of fiber.
Vitamins and Minerals
A medium-sized Fuji apple also provides 170 milligrams of potassium. It offers 20 percent of the recommended daily value for vitamin C and 2 percent of the DV for vitamin A, calcium and iron, based on a 2,000-calorie diet.