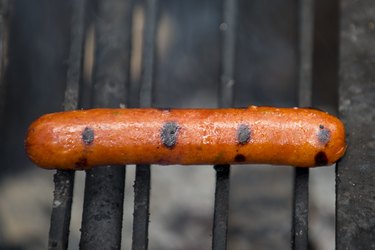 To lower a hot dog's calorie count, order it or prepare it without the bun. You can ditch the bread bun for a low-carb option like an iceberg lettuce wrap or portobello mushroom "bun."
Most of the carbohydrates found in a hot dog actually come from the hot dog bun, while the protein and fat content will be from the hot dog itself. Hot dog fat content is typically lower in hot dogs made with poultry and in vegetarian or "meatless" options compared to all-beef dogs. Hot dog sodium content can also be high, so keep that in mind when you evaluate what will fit in to your daily or weekly meal plan.
Hot Dog Calorie Information
Hot dog calorie counts vary depending on the ingredients and mode of preparation. A hot dog made of beef and pork, served without the bun, also weighs 57 grams and provides 162 calories. This includes almost 6 grams of protein, 14 grams of fat, 3 grams of carbs and 562 milligrams of sodium.
You can also get hot dogs made with beef only, which some people opt for due to dietary restrictions or personal preference. The nutrition info for a beef hot dog is quite similar to that of a hot dog made with beef and pork. A beef hot dog without a bun weighs approximately 57 grams and provides 186 calories, almost 7 grams of protein, almost 17 grams of fat and just over 2 grams of carbs. It also provides 572 milligrams of sodium.
Whether for taste or health, some people may chose to eat turkey hot dogs. Hot dog fat content is lower in frankfurters made from poultry rather than beef or pork. The carbs in hot dogs made from poultry is about the same — but regardless of carbs, Harvard Health Publishing says that cutting red meat may be good for your heart health.
A turkey hot dog provides 130 calories and over 7 grams of protein, almost 10 grams of fat, over 2 grams of carbs and 525 milligrams of sodium. A chicken hot dog provides 130 calories and over 9 grams of protein, over 9 grams of fat, less than 2 grams of carbs and 592 milligrams of sodium.
There are plenty of ways to lower hot dog calories. You can eat a hot dog without the bun and limit your toppings. However, be mindful that hot dogs are often high in sodium and saturated fats. If you're concerned about your cholesterol levels, the American Heart Association recommends lowering your intake of processed meats like bacon, hot dogs and salami.
The number of carbs in hot dogs is usually quite low, though you can always check the nutrition label to see the carb content of whichever specific brand you are planning to cook, or ask the restaurant for that information if you are dining out.
If you want to limit your carb intake, also consider what sides you are eating alongside a hot dog. Instead of carb-rich bread buns, french fries or potato salad, opt for grilled veggies, side salad or fruit.
Hot Dogs and Food Safety
The USDA Food Safety and Inspection Service recommends keeping hot dogs refrigerated or frozen until you plan to make them. Because hot dogs come already cooked, you can store them unopened in the fridge for two weeks, and opened in the fridge for one week.
Pregnant people should always reheat hot dogs fully, to cut down on any risks of listeria contamination. And for little kids, it's best to cut up hot dogs into small pieces before serving, due to a potential choking risk.
Was this article helpful?
Thank you for your feedback!