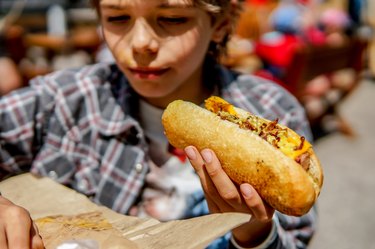 Available at just about any cookout, tailgate or baseball game, hot dogs are an American staple. However, for people with celiac disease or a non-celiac gluten sensitivity, it's best to be cautious before grabbing a hot dog off the grill.
Even though they're not breaded or starchy, hot dogs aren't always gluten-free, making them potentially unsafe for people avoiding gluten, according to Lisa Moskovitz, RD. While some hot dogs may contain wheat-derived preservatives or filler ingredients, others may be cross-contaminated by gluten-containing ingredients.
Understanding Gluten-Free Hot Dog Packaging
There are many gluten-free hot dog products on the market. Packages marked "gluten-free," "no gluten" or "without gluten" contain less than 20 parts per million (ppm) of gluten (no foods can be tested 100 percent gluten-free), according to the FDA. Generally, even people with celiac disease can safely consume this (minuscule) amount of gluten.
Hot dogs marked "certified gluten-free" by the Gluten-Free Certification Organization meet a stricter limit of 10 ppm or less of the protein, which is found naturally in wheat, barley and rye. Gluten-free hot dogs that are certified by the National Celiac Association fit even more stringent criteria at less than 5 ppm. Certified gluten-free hot dogs are likely the safest bet for individuals with gluten sensitivities or celiac disease.
Certified Gluten-Free Hot Dogs
Dietz & Watson: While not all of this company's offerings are certified gluten-free (you will have to read the label), Dietz & Watson does offer several products that are gluten-free certified by the National Celiac Association, which means they test at less than 5 ppm of gluten.
GeeFree: While GeeFree doesn't offer standard, plain hot dogs, the certified gluten-free company (by the Gluten-Free Certification Organization) does make "Gluten-Free Franks in a Blanket," small hot dogs wrapped in a gluten-free dough.
Sabrett: Sabrett hot dogs are certified gluten-free by the Gluten-Free Certification Organization and are therefore safe for those with celiac disease, according to the Sabrett website.
FDA-Regulated Gluten-Free Hot Dogs
Non-Gluten-Free Hot Dogs
Ball Park: While many of Ball Park's hot dogs may not be formulated with wheat or other gluten-containing ingredients, the company does not label its products "gluten-free," meaning they may contain higher amounts of gluten through cross-contamination, according to the company site.
Gwaltney: Gwaltney does not claim that any of its hot dogs are free of gluten.
Oscar Mayer: Although most Oscar Mayer hot dogs aren't formulated with gluten ingredients, their hot dogs are not labeled gluten-free and therefore may face cross-contamination.
Wellshire Farms: While you are able to search for gluten-free products on the Wellshire Farms site, the company's hot dogs are not labeled gluten-free and can't guarantee safety against cross-contamination.
Healthier Hot Dog Alternatives
Although there are plenty of wheat-free hot dog brands out there, Moskovitz recommends that you keep them out of your regular diet, gluten-free or not. Hot dogs are heavily processed and contain about 567 milligrams of sodium, according to the USDA, putting quite the dent in the American Heart Association's recommendation to get just 1,500 milligrams per day.
If you're looking for cookout-friendly food that you can stick between two pieces of gluten-free bread, grass-fed burgers, meatballs or chicken kebabs (check for gluten on the labels of these foods, too) are all better alternatives, Moskovitz says. A good rule of thumb: Look for a meat that isn't wrapped in a casing, which can contain artificial ingredients.
Committed to the hot dog? Opt for an organic chicken or soy sausage, preferably with some spinach or other vegetable mixed in, Moskovitz says. Just keep in mind that even these alternatives should be consumed sparingly and in moderation.