Whole-grain breakfast cereals often derive high calorie counts from additions of sugar, honey, dried fruit and nuts. In searching for low-calorie, healthy cereals, get back to basics, such as wheat and corn flakes, puffed rice and unsweetened cooked cereals. In general, cereals with the least sugar, or simple carbohydrates, have fewer calories.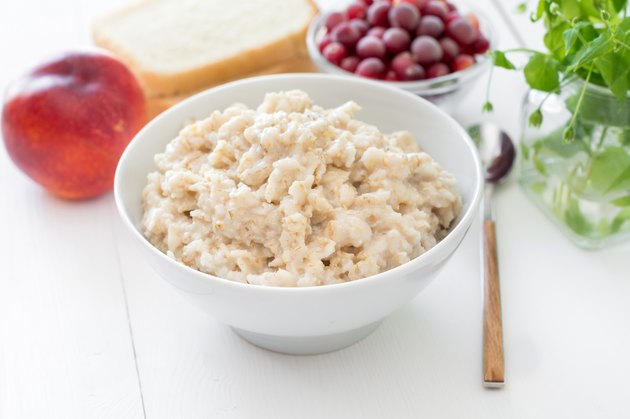 The calorie totals of some cereals, however, fill out with greater complex carbohydrate proportions. The USDA Dietary Guidelines for Americans acknowledge acceptable trade-offs of calories for dietary fiber and other beneficial nutrients. Read the package nutrition facts to understand a cereal's nutritional balance before deciding on calorie cut-off points.
Hot Cereals
Cooked oat bran, 88 calories per 1 cup, is among the lowest-sugar and lowest-calorie healthy cereals, according to the USDA. This trend continues with Quaker corn grits, 104 calories per suggested serving, Malt-o-Meal, 113 calories, B&G Foods Cream of Wheat, 131 calories, and Homestat Farm Wheatena, 136 calories.
Regular cooked oatmeal, 166 calories per 1 cup, and enriched corn grits, up to 172 calories per 1 cup, get additional calories from higher protein content than the other, lower-calorie breakfast cereals. One-half cup of nonfat milk with cereal will raise your calorie count by 42.
Basic Ready-to-Eat Cereals
Stick to or adjust suggested breakfast cereal serving sizes of 1/2 cup and up to suit your calorie goals. In a 2,000-calorie diet, the FDA considers 100 calories or less, or 20 percent of your daily total and below, a low-calorie count. Healthy cereal examples include Kellogg's All-Bran, 78 calories per suggested serving, as well as General Mills Whole-Grain Total and Kellogg's Corn Flakes and Product 19, with about 100 calories each.
Other plain, low-cal cereals include General Mills Cheerios, 110 calories per suggested serving, Kellogg's Special K, 117 calories and Quaker Oat Life, 119 calories. Cereals with greater sugar content but relatively low calories include Kellogg's Honey Smacks, 104 calories, Quaker Cap'n Crunch with Crunchberries, 105 calories, General Mills Golden Grahams, 120 calories, and Kellogg's Rice Krispies, 128 calories.
"Enhanced" Ready-to-Eat Cereals
Adding chocolate flavoring or extra sugar and blending multiple grains raises calorie breakfast cereal calorie levels. Examples include General Mills Reese's Puffs, 130 calories per suggested serving, Kellogg's Frosted Mini-Wheats, 189 calories, and General Mills Basic 4, 210 calories, as per the USDA.
If you like dried fruit and nuts in your cereal, you'll suffer higher calorie counts per suggested serving, such as Quaker 100% Natural Granola with Raisins, 195 calories, or General Mills Raisin Nut Bran, 200 calories. The American Heart Association suggests enhancing plain healthy cereals yourself by adding fresh fruit instead.