Low in calories, high in protein, sea scallops lend themselves to a variety of cooking methods that won't add fat to this seafood delicacy. You can steam, sear or grill these tender mollusks and enjoy their mild flavor along with their health benefits.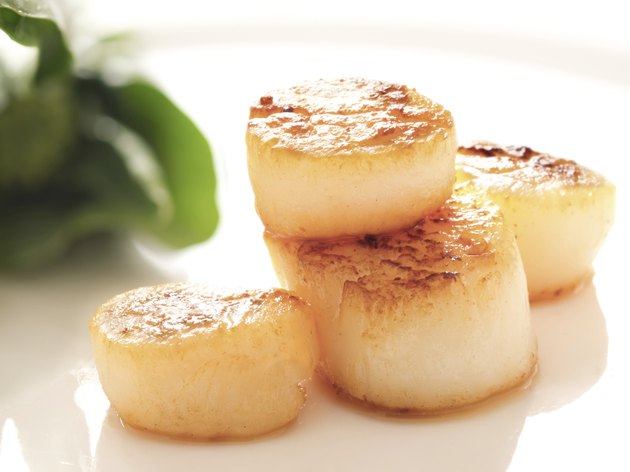 Calories
A serving of five large sea scallops weighing 20 grams each has 111 calories, which makes up 6 percent of a 2,000-calorie diet. Scallops are high in protein, low in fat and rich in several essential micronutrients. If you're trying to lose weight, sea scallops provide high nutritional value in exchange for a low caloric content.
Nutrients
Most of the calories in sea scallops come from protein. A serving of five 20-gram sea scallops has 20.5 grams of protein and only 0.84 grams of fat. The fat content in scallops comes from omega-3 fatty acids, which promote heart health and help lower your cholesterol. Essential vitamins and minerals in scallops include selenium, phosphorous, iron, vitamin B12 and calcium.
Suggestions
To keep sea scallops low in calories and fat, try marinating them in lime juice, then baking or searing them with heart-healthy olive or canola oil. Grill scallops on a skewer with fresh vegetables for added vitamins and fiber.