The number of calories you can potentially burn swimming 40 lengths of a 25-yard pool largely depends on your weight and speed. You can calculate the amount of calories burned based on the American Council on Exercise tables for calorie expenditure if you know your weight and the time it takes you to swim 1,000 yards.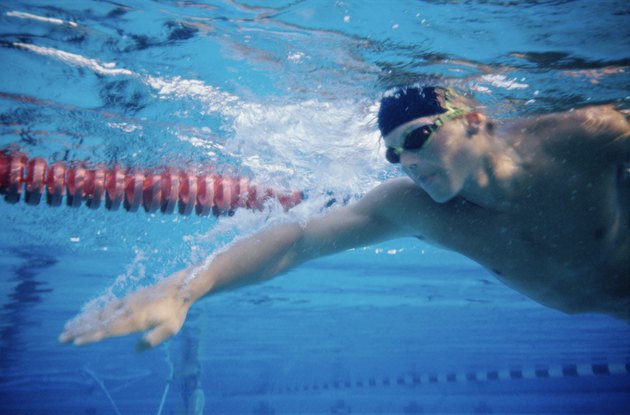 Calculate Your Calories
According to ACE, swimming burns 0.10 to 0.14 calories per minute per kilogram of weight. Say that at a moderate speed you swim 1,000 yards in 30 minutes and you weigh 130 pounds, or 59 kilograms. Multiply 0.14 times 59 times 30 to get 248 calories. A slower pace burns 0.10 calories per minute per kilogram. According to Nutristrategy, the butterfly burns the most calories, followed by the breaststroke and fast freestyle laps.A 130-pound person burns 325 calories swimming butterfly for half an hour and 295 calories with the breaststroke.