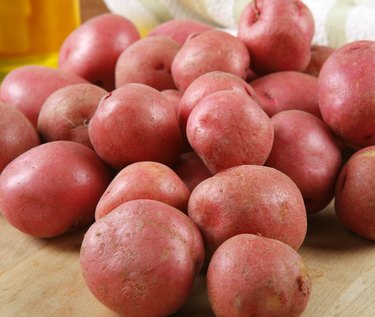 Red potatoes are rich in vitamin C and potassium. Typically thought of as being primarily a source of carbohydrates, a small potato can contain up to 3 1/2 grams of protein as well. The University of Illinois Extension reports that out of hundreds of potato varieties, red potatoes are one of the most common types found in home gardens.
Raw Red Potatoes
A raw small red potato, one that is 1 3/4 inch to 2 1/4 inch in diameter, contains 119 calories. If you are dicing them, a half a cup of diced potatoes contains 52 calories. If you bake, boil or steam your potatoes, you add no additional calories.
Garlic Red Potatoes
Very few people eat their red potatoes without toppings. A typical recipe for garlic red potatoes also contains butter, minced garlic and grated Parmesan cheese. Butter weighs in at 100 calories per tablespoon, and the Parmesan cheese is another 22 calories per tablespoon. The calories in the garlic are negligible, bringing the total calories per 8 ounce serving of garlic red potatoes to 279.
Mashed Red Potatoes
If you like your red potatoes mashed, your main source of additional calories will be the fat and liquid added to the potatoes. Again, butter is 100 calories per tablespoon while light cream is 44 calories per tablespoon.