Your body doesn't have a magic cut-off time after which it stores fat, so you can have a healthy snack before bedtime without automatically gaining weight. Drinking a protein shake at bedtime has some advantages for weight loss, because protein boosts metabolism and stimulates muscle building. The challenge is making sure the calories in your shake don't ruin your daily calorie goal.
Calories in Protein Shakes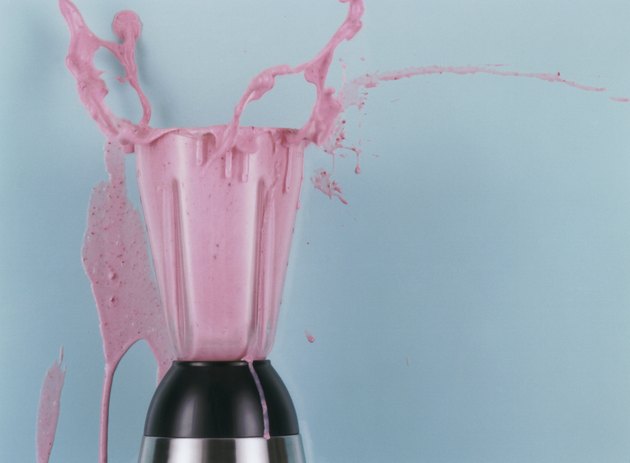 A protein shake may sound like a healthy addition to a weight loss diet -- and protein does support weight loss -- but your success depends on how it's used. You could replace a meal with a shake, enjoy it as a snack, or drink it right before bed, but if the protein shake adds calories on top of a normal daily intake, it's going to lead to weight gain rather than loss. The protein powders used to make shakes have a range of calories, so you may find some brands have more or less, but as a general guideline, you can count on the powder alone to have 110 to 170 calories per serving.
The powder also has to be mixed with a beverage to make a shake. You could go with water to avoid more calories, but if you choose a cup of skim milk or orange juice, you'll add 83 calories and 112 calories, respectively. Now, your protein shake is up to as much as 282 calories, which is enough to ruin a diet if the calories aren't calculated as part of your total daily intake. If you consume 500 more calories than you burn each day, you'll gain weight, while taking in 500 fewer calories results in the loss of a pound over a week's time.
Consuming Calories Before Bed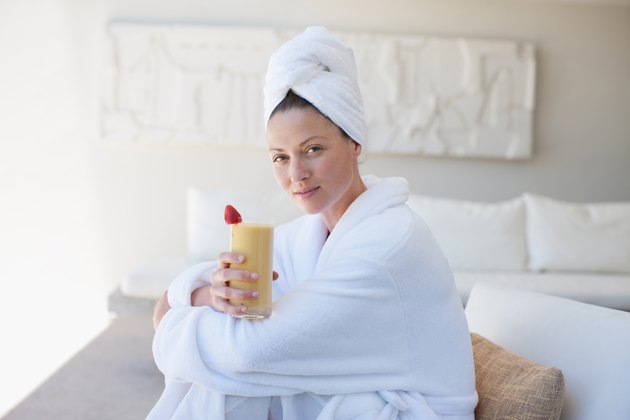 When they participated in a study, a small group of young men lost more weight when they didn't eat after 7:00 p.m., reported the British Journal of Nutrition in 2013. The extra weight loss wasn't related to whether or not they consumed calories near bedtime, however. It was attributed to the fact that they consumed fewer total daily calories when they didn't snack at night.
But grabbing a late-night snack or drinking a protein shake before you sleep won't affect your weight as long as your snack doesn't exceed your calorie budget. The body gains or loses weight over weeks and months of consistently consuming more calories than it needs for energy. These excessive calories accumulate to create extra pounds regardless of what time of day they were consumed.
To be sure a bedtime snack doesn't lead to weight gain, you need to keep track of how much and what type of food or beverage you have, researchers reported in an article published in Nutrients in 2015. The writers recommended choosing nutrient-dense foods or beverages with fewer than 200 calories.
The researchers also noted it's better to consume a single macronutrient such as protein rather than a mixed meal. Protein shakes fit this profile as long as you choose a powder and beverage combination under 200 calories.
Protein Shakes for Weight Loss
As long as you watch calories, having a protein shake at bedtime offers several benefits that impact weight loss. Even though metabolism slows down when you sleep, it still keeps working, and your protein shake will be digested and absorbed.
The protein you consume at bedtime stimulates muscle protein synthesis while you sleep, according to a small study published in Medicine and Science in Sports and Exercise in 2012. As a result, it improves muscle recovery and may prevent or reduce muscle loss associated with aging or certain illnesses such as cancer, noted the report in Nutrients.
Consuming protein may improve weight loss because you use more calories to digest protein than other macronutrients. When a protein shake is consumed just before bedtime, the amount of energy burned while you sleep increases.
Getting protein or carbs before sleeping may boost morning metabolism, reported researchers in the January 2014 issue of the British Journal of Nutrition. However, their study included only 11 subjects, so the results may not apply to everyone. When overweight women had a casein powder shake at bedtime, they felt less hungry in the morning, according to a study in Applied Physiology, Nutrition and Metabolism in January 2015. All of these small effects work together to burn more calories.
Tips About Protein Powders
Buying protein powder to use for your shake can be intimidating if you're not familiar with the products. You'll find a variety of brands, offering many different flavors of powder, plus unflavored, if that fits your needs. The protein sources include egg, beef, vegetables such as peas and soy, and the milk proteins whey and casein.
Athletes training to build muscles may prefer a combination of whey and casein, because whey is rapidly absorbed while casein enters the system slowly. Due to its gradual effect, casein is sometimes recommended as the best protein to take before sleeping, but there isn't any strong evidence to date to prove that it makes a difference.
Choosing a protein powder often comes down to personal preferences, but when the goal is weight loss, the bottom line is the number of calories per serving.