Tangy, refreshing orange juice delivers a significant boost of vitamin C, as well as other nutrients such as B vitamins, vitamin A and potassium. While its calories can easily fit into your daily diet without ruining your calorie goals, orange juice is not exactly a low-calorie beverage. As long as you drink a moderate amount, it makes a nutrient-rich addition to your meals.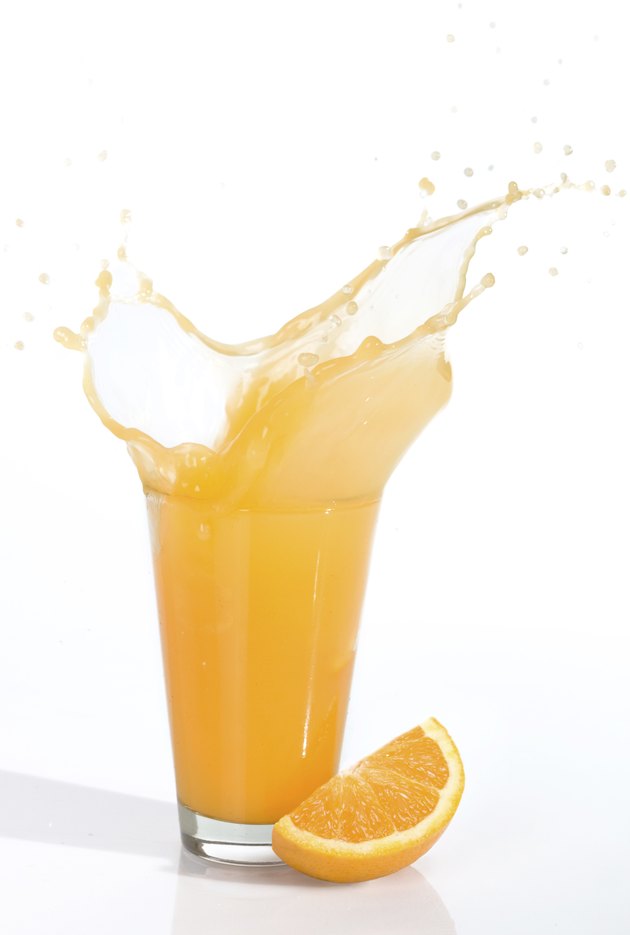 Similar Calories From Different Juice Sources
Whether you drink a glass of freshly squeezed orange juice or prefer the convenience of diluting frozen orange juice concentrate, you'll get 112 calories in 1 cup of juice. The same portion of canned, unsweetened orange juice has 117 calories, according to the U.S.Department of Agriculture's National Nutrient Database.
Breakdown of Calories
Most of the calories in orange juice -- about 92 to 95 percent -- come from carbohydrates. Protein provides the remaining calories. In 1 cup of orange juice you'll get about 26 grams of carbohydrates, of which 21 grams consist of natural sugar. As long as you choose 100 percent juice without any added sweeteners, a cup of orange juice contributes toward your daily fruit intake.
Juice Versus Whole Fruit
One cup of orange juice has the same calories as 1.25 cups of orange sections. Fresh oranges are smaller, providing 45 to 86 calories, depending on the size of the fruit. Orange juice provides about the same vitamins and minerals as fresh orange sections, but it loses almost all of the fiber. Condensed and canned juices also lose some vitamin C, but they're still excellent sources.