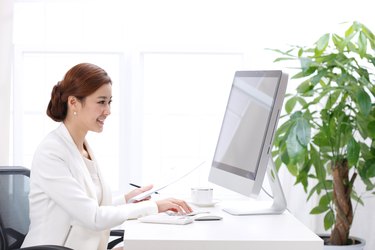 Making the decision to further your education is one that should benefit you personally or your career. As we try to balance family and work, fitting in time to go to school is difficult. Online courses offer students the opportunity to gain knowledge without time constraints and the need go to a classroom setting. Nutrition training is available online, but you must know what you will get out of the courses before you begin.
Identification
The end result of many nutrition degrees is becoming a Registered Dietitian. Registered Dietitians can work in several settings from hospitals, food service departments and schools to fitness centers and more. According to the Bureau of Labor Statistics, a bachelor's degree and supervised internship are required to sit for the national registration examination. The BLS states, "Employment of dietitians and nutritionists is expected to increase 9 percent during the 2008-18 projection decade."
Benefits
Online courses offer many benefits to nontraditional students. The flexibility of online training is not available with traditional courses. Online training allows the participant the ability to complete coursework based on her own schedule and at home. This cuts down travel time and increases the opportunity to participate in classes. Online courses allow colleges the opportunity to offer more diverse courses and increases access to classes to students far from campus, according to Johns Hopkins University.
Types
Online nutrition training has various formats. Online colleges may offer credits toward a bachelor's or master's degree in nutrition. Registered Dietitians, who already have obtained a degree in nutrition, are required to complete 75 hours of continuing education coursework every five years to maintain their credentials. Online seminars, independent reading and video conferencing allow professionals the opportunity to complete these credits from their work setting. Academy Medical, an online provider of continuing education, offers nutrition training programs for professionals. This type of training gives students the ability to maintain certifications and meet state license requirements from the comfort of home. Other types of online training include training opportunities for food service managers, such as food safety certification. Basic nutrition training for professionals like personal trainers may offer a certificate in sports nutrition.
Programs
The University of Massachusetts Online Nutrition Education program provides several types of courses and programs geared toward different learners. Daycare providers and teachers desiring basic nutrition knowledge may enjoy the course titled 'Nutrition for a Healthy Lifestyle,'' designed to teach the basics of the science of food and nutrition. Nutrition professionals looking for an advanced degree might consider the online Master of Public Health Nutrition program. This program offers several courses including Nutrition Problems in the U.S. and Community Nutrition with a master's degree earned at the end.
Considerations
Online training does not allow for face to face interaction. This lack of interaction prevents networking and relationship development. For people hoping to enter the job market, interactions with other professionals in the classroom may help you to find a job. Before enrolling in an online training program, the Better Business Bureau recommends protecting yourself from fraudulent programs out to take your money without providing training in return. The BBB reminds you that you should look for accredited programs, and make sure that what you are getting for your money doesn't sound too good to be true.