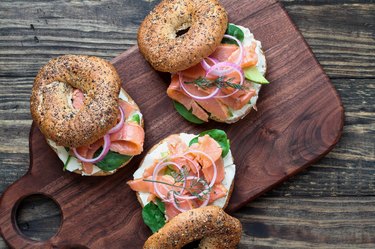 A bagel with cream cheese and lox is a breakfast and brunch favorite, but do those bagel calories fall in line with your nutritional goals? Of course, the exact amount of calories depends on the size of your bagel and the total amount of toppings you use, but the breakfast totals around 500 calories.
But while bagels are typically not considered the healthiest of breakfasts, the lox adds important nutrients, like omega-3 fatty acids, vitamin D and protein, to your meal.
Plain Bagel Calories
The bagel calories depend on which size bagel you choose. A 2.5-inch mini bagel clocks in at just 72 calories. If you opt for a small bagel, which is closer to 3 inches in diameter, that number jumps up to 192 calories.
Go for a medium bagel, which is 3.5 to 4 inches in diameter (and the standard bagel size), and you're looking at 292 calories. If you get a large bagel, which is the 4.5-inch kind that you'll find in many bakeries or cafes, bagel calories will come in at 364, with nothing else on it.
Cream Cheese Calories
Just like there are so many bagel options, there are lots of different cream cheeses out there. There's regular and whipped. There's full fat and low fat. There's flavored or plain. Each of these different types of cream cheese will have a different nutrient profile, so keep in that mind.
That being said, each tablespoon of regular, plain cream cheese you spread on your bagel will add 51 calories. If you choose whipped cream cheese, which is lighter and has more air incorporated into it, that number drops down to 35 calories per tablespoon.
While you may have the notion that low-fat cream cheese is the better choice than regular, full-fat varieties, that advice has been retracted since the low-fat era of the '90s. In an interview with the Harvard T.H. Chan School of Public Health, Walter Willet, a professor of Epidemiology and Nutrition and chair of the Department of Nutrition, points out that full-fat dairy products may be better than low-fat dairy products at helping to keep weight off.
Calories in Lox
Lox, which is a type of cured salmon, first made its way into the scene before refrigerators were around to keep food fresh. It's made by taking thinly sliced salmon filets and curing (or preserving) them in a brine mixture that's made from sugar, salt and various spices. After the lox is cured, it's then cold smoked, which adds a smoky flavor to the fish but doesn't cook it at all.
Because it's made from salmon, lox has all of the same health benefits. It's rich in omega-3 fatty acids, which keep your brain and heart healthy, and provides you with natural vitamin D — a vitamin that's hard to find in a lot of foods. It's also a good source of high-quality protein. In an interview with Harvard Health Publishing, Teresa Fung, an adjunct professor in the Department of Nutrition at the Harvard T.H. Chan School of Public Health, recommends including salmon in your diet at least once per week to maximize the health benefits.
15.5 grams of protein

3.7 grams of fat

1,700 milligrams of sodium

75 IU of vitamin A