Before you top your cream cheese-smothered bagel with a slice of delicious lox, consider the health risks associated with eating smoked salmon. The cured and smoked fish is best served cold, but so is the revenge it may take on your health and well-being. If you have certain conditions, you should be especially careful.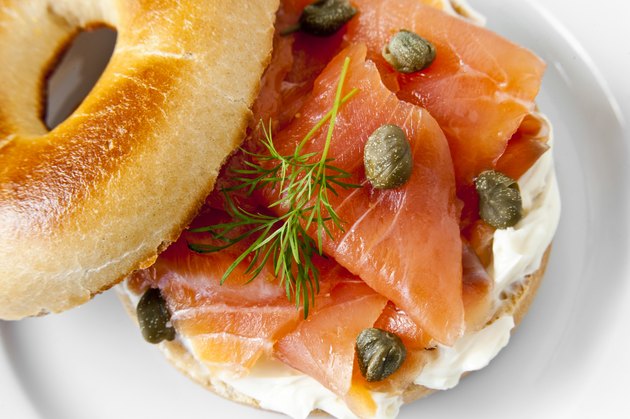 Insidious Sodium
A 3-ounce serving of smoked salmon contains 1,700 milligrams of sodium, more than the 1,500 milligrams recommended by the U.S. Department of Health and Human Services. High sodium intake may elevate your blood pressure and increase your risk of stroke and heart disease, especially if you have hypertension, diabetes or chronic kidney disease. Research published in "Diabetes Care" in 2011 reports that sodium is independently associated with all causes of death and end-stage kidney disease in patients with type 1 diabetes.
Critical Chemicals
Eating smoked salmon increases your probability of ingesting polycyclic aromatic hydrocarbons, chemicals that can elevate your risk of cancer. An article published in the "Journal of Food Protection" in 2006 reports that smoked salmon contains polycyclic aromatic hydrocarbons from both sea pollution and the smoking process. Polycyclic aromatic hydrocarbons may be a predisposing factor in the cause of breast cancer, according to a 2002 article in "Environmental and Molecular Mutagenesis."
Bad Bacteria
Smoked salmon may contain pathological bacteria that can increase your risk of potentially fatal infections. Researchers in a 2008 study in "International Journal of Food Microbiology" report that the bacterium Listeria monocytogenes can grow to high numbers in cold-smoked salmon. The steps in the cold-smoking process can reduce, but cannot eliminate, persistent bacterial strains that may survive and colonize during processing. Listeriosis, the term used for infection caused by Listeria monocytogenes, is characterized by diarrhea, high fever, muscle aches and convulsions and affects primarily pregnant women, newborns, older adults and adults with weakened immune systems. The infection causes death in approximately 16 percent of those who become seriously ill. Even when smoked salmon is stored in your refrigerator, Listeria monocytogenes can continue to grow.
Risk-Lowering Recommendations
Minimize these health risks by eating smoked salmon less often. Balance your sodium intake by consuming low-sodium foods on days when you do eat the smoked fish. Use your lox shortly after purchase to lower risk of bacterial infections. Call your doctor immediately if you experience symptoms.