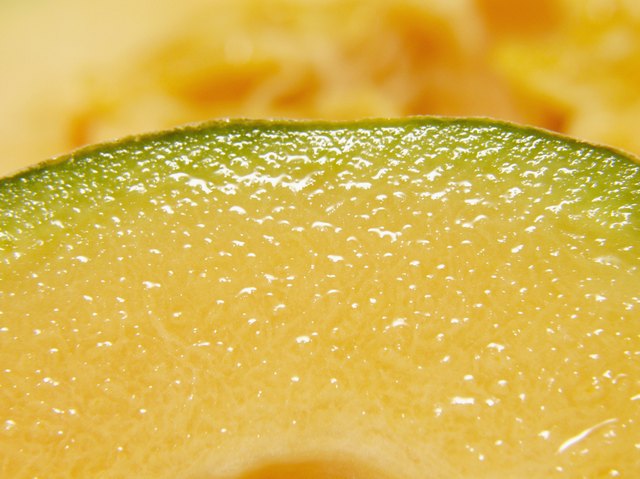 You'll lose weight, burn fat, cleanse your organs and feel less of a craving for unhealthy foods after following the Melon diet, claim the plan's proponents, including Chicago-based yoga teacher Shakta Kaur. It's not known, however, if the diet was originally created as part of yogic tradition. On the diet, the only solid food you'll eat is melon. The program does not fulfill the U.S. Department of Agriculture's recommendations for a healthy, balanced, sustainable diet and may be dangerous for some people to follow, including those with a chronic medical condition. Do not begin any form of the Melon diet until you've talked to your doctor.
Basic Guidelines
On each of the 21 days of the diet, you'll either eat a specific type of melon, drink water that may or may not be flavored with lemon juice and a sweetener, or both. No other foods or beverages -- tea, coffee or sports drinks -- are allowed. Substitutions for melons are not allowed. According to Kaur, substitutions will interfere with the diet's ability to detoxify your body. While you're on the Melon diet, don't take vitamins, and plan for few physical activities. The diet is based on the premise that depriving your body of any other source of nutrients will force it to obtain them by breaking down fat stores.
Sample Daily Meals
During the first nine days of the Melon diet, your meals consist only of cantaloupe, watermelon or papaya paired with plenty of water. Each three-day set features a different melon -- cantaloupe for days one through three and watermelon for days four through six, for instance. You can eat the fruit plain, pureed with ice or flavored with lime juice or stevia. Days 10 through 12 are water-only days during which you'll consume nothing more than water, lemon juice and an added sweetener, if desired. The final phase of the diet cycles back through three-day sets of papaya, watermelon and cantaloupe. If you're too hungry to stick to the diet's guidelines completely, Kaur suggests eating some nonstarchy green vegetables like lettuce or celery, air-popped popcorn or protein powder with no added vitamins mixed into water.
Possible Advantages
If you adhere strictly to the Melon diet guidelines, you'll lose weight, though it's likely you'll drop it faster than the 1 to 2 pounds per week recommended for safe, sustainable weight loss that won't leave you undernourished. The average American doesn't consume enough produce each day, including fresh fruit, but there's no fear of falling short of your fruit requirement on the Melon diet. Since adults need only between 1 1/2 to 2 cups per day depending on age, gender and activity level, you may end up consuming far more than you need on the program's 21 days.
Potential Disadvantages
It's impossible for you to consume adequate protein, fat, complex carbohydrates, vitamins and minerals on the Melon diet, which may lead to potentially harmful nutrient deficiencies. You'll consume far less than the 1,200 minimum daily calories recommended for women and the 1,800 calories per day advised for men. For example, even if you ate 10 cups of diced fresh watermelon on the program's watermelon-only day, you'd still take in less than 500 total calories. The promise that you'll cleanse your body of toxins by eating only fruit or water for 21 days isn't backed up by scientific research. It's possible you'll become weak and light-headed during the course of the diet and may experience muscle cramps and a potentially dangerous drop in blood pressure. Any weight you did lose may return when you resume your normal eating habits.