Pushups are often used in military training and fitness testing. As these are body weight exercises, you need little in the way of equipment to perform them. If you are trying to use pushups to bulk up your chest, start conservatively to make sure your form is correct and to build a foundation of strength for more intense push up work.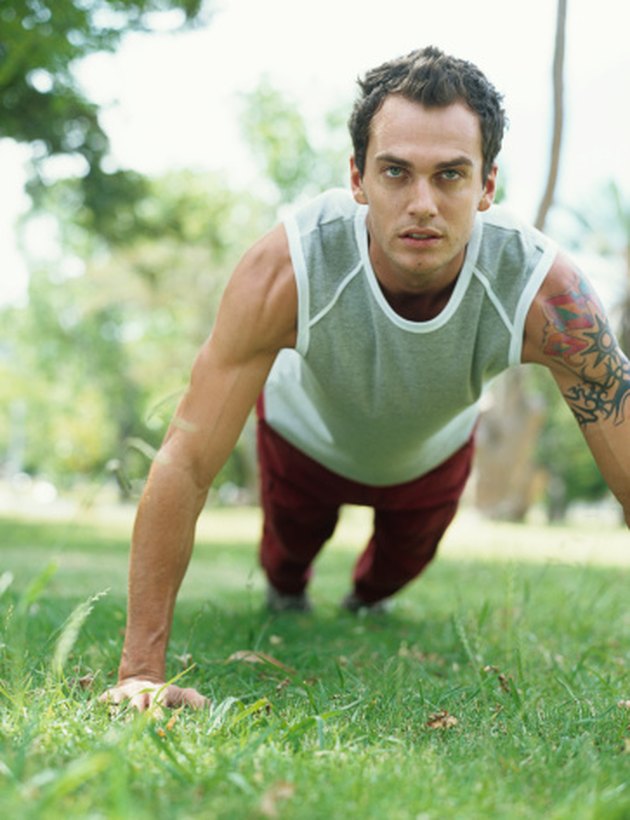 Chest Anatomy
The chest muscles are known in anatomical terms as the pectorals. The main functions of the "pecs" are to move the upper arms toward the center of the body and to shrug the shoulders forward. Pushups use both of these motions, so consistent work with push ups does make the chest muscles bigger. Since push ups are a compound exercisyou actually work more than one muscle at the same time. .
Types of Pushups
Standard pushups are performed on a level surface. This exercise primarily targets the middle part of your chest. To ensure you maximize your workouts, perform decline and incline pushups as well. Decline pushups place more emphasis on your upper chest and incline pushups shift the emphasis to your lower chest.
Form
Executing proper form is very important when you are doing pushups. The better your form, the more likely you will be to develop bigger chest muscles. Start out lying on your stomach with your hands on the floor slightly wider than shoulder-width apart. Keep your feet together and push yourself off the floor until your arms are fully extended. Contract your abdominal muscles and maintain a straight line from shoulders to heels as you bend your elbows and lower yourself toward the floor. Stop when your chest is within a fist-width of the floor and push yourself back up. Follow these same points with your decline and incline pushups. To perform decline pushups, place your feet on a chair or weight bench and your hands on the floor. Perform incline pushups with your hands on a bench or chair and your feet on the floor.
Variations
The weight of your body is fine for building muscle to a certain extent, but you may get to a point where your pushups become easy and you will not make any more progress. Consider wearing a weighted vest to increase the resistance. You can also have a training partner sit next to you and hold a weight plate on your back as you perform pushups. Weight plates range in weight all the way up to 45 lb.
Muscular Endurance
Even if you reach a state where you're able to perform repeated pushups with little effort, continuing to include pushups in your chest workout will only help increase the strength and density of your pecs. The increased muscular endurance gained through pushups will assist in other mass building exercises such as barbell bench presses and dumbbell flies.