Remember the old saying, "An apple a day keeps the doctor away?" Green apple benefits include better digestion, improved blood lipids and even weight loss. Rich in fiber and low in calories, this fruit keeps your heart healthy and promotes satiety.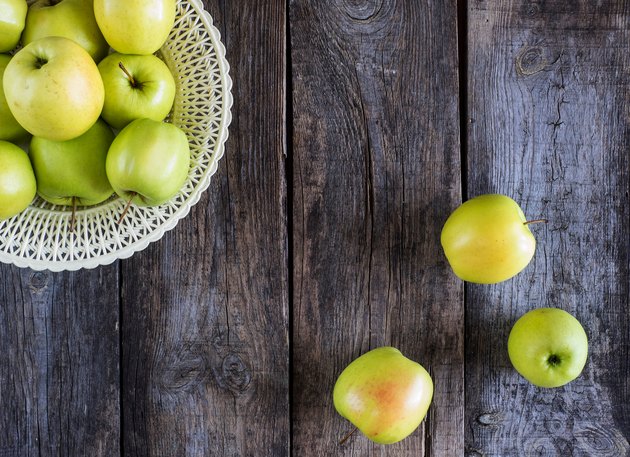 Green Apple Calories and Nutrients
If you're like most Americans, you probably have a bowl of red apples on the table or countertop. This fruit is popular worldwide — and for good reason. Loaded with potassium, vitamin K and antioxidants, it supports cardiovascular health and protects against free radical damage. Plus, it's over 85 percent water, which helps keep you hydrated and feeling full.
Green, red or yellow, apples make it easier to reach your weight loss goals and get more vitamins in your diet. In fact, green apples are just as nutritious as their red counterparts but higher in fiber. USDA green apple nutrition data reports that one medium Granny Smith apple has fewer than 100 calories (97, to be more precise), making a great snack between meals. You'll also get:
22.7 grams of carbs, including 4.7 grams of fiber
0.7 grams of protein
0.3 grams of fat
4 percent of the DV (daily value) of potassium
2 percent of the DV of magnesium
6 percent of the DV of copper
3 percent of the DV of manganese
4 percent of the DV of vitamin K
2 percent of the DV of vitamin E
Green apple calories are negligible. This refreshing fruit also provides B vitamins, lutein, zeaxanthin and small doses of calcium, iron and zinc. A large apple boasts 23 percent of the daily recommended fiber intake.
A small red apple, which is pretty much the same size as one medium green apple, has 93 calories and 22.2 grams of carbs, including 3.6 grams of fiber. Both varieties have a similar nutritional value.
Green apples, though, are higher in phenolic compounds, point out the experts at Tufts University. These antioxidants may slow down aging and protect against skin disorders, reduce inflammation and kill disease-causing bacteria, among other beneficial effects.
Are Green Apples Diet-Friendly?
Apples — Your New Favorite Snack