One 3.5-oz. green apple with skin contains 52 calories. A 3.5-oz. apple has 48 calories if you eat it without the skin, according to the U.S. Department of Agriculture.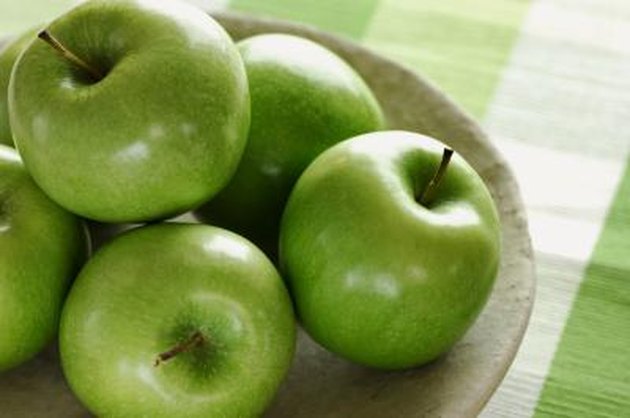 Effects
The calorie count for a green apple with skin increases by 10 percent if you also eat the core and stem. Juicers that liquefy or puree fruits and vegetables use all parts of the fruit, so juicing one green apple with skin--along with the core and stem--could increase the number of calories from 52 to 57.
Significance
Ounce for ounce, eating a fresh green apple instead of dried apples may help you control your caloric intake. That is because the apple contains water that fills you up more quickly and it contains more fiber that makes you feel full longer. Some of the nutritional properties, including fiber, are lost during the drying process.
Considerations
A 3.5-oz apple contains fewer calories than its dried equivalent, says the The Diet Detective, a syndicated columnist at the Seattle Times. The drying process increases sugar concentration, and the manufacturer usually adds sugar to the dried apple product, increasing the calories per ounce.