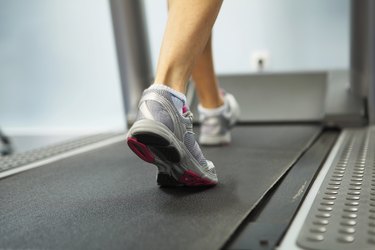 Having an unwanted large exercise machine, such as a treadmill, can take up a lot of space and be a problem, especially if its been worn and seen better days. If you purchased a new replacement treadmill or simply don't want to use your old one anymore, you will need to dispose of your treadmill properly. Throwing it away at a junkyard or dump-site is the most obvious choice, but there are plenty of other options to choose from which far more environmentally friendly and can be rewarding too.
Step 1
Ask your friends, relatives, and neighbors if they want to have a used treadmill. You can try to sell it to them, but people are more willing to take the treadmill off your hands if it is free.
Step 2
Sell your used treadmill on websites tailored to selling second hand or refurbished equipment such as UsedGymEquipment.com. Typically these websites will fill have you fill out a form to submit (see Resources) and provide contact information as well as the equipment's sale price.
Step 3
Donate your treadmill to a charity such as Sports Gifts Inc or Fitness 4 Charity (see Resources), which donates used equipment to those in need. Contact them by phone or fill out a form to set-up the donation process. Other places you may want to consider donating are the gyms of YMCA and the Boys and Girls Club who are always in need of fitness equipment items.
Step 4
Post a sales ad for your treadmill on an online classified website, such as Craigslist. When selling your treadmill, ensure that you take a clear picture of it, as well as the specs and the going price. Insist on cash-only to prevent any complications that may come from bounced checks.
Step 5
Apply to a free bulletin board, such as FreeCycle.org, and gift your treadmill back to the community. These websites operate on a pay-it-forward process, where rather than disposing the treadmill to over burdened landfills, you can give it to somebody else who may need it, free of charge.