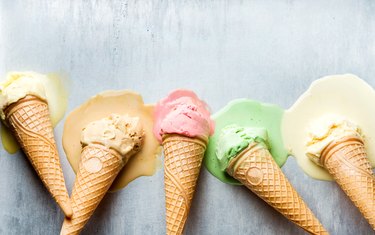 Ice cream is a delicious dessert, but it comes packed with sugar, fat and calories. Different flavors and brands have different nutritional values, so the number of calories in one scoop of ice cream varies. Keep in mind that there are healthier alternatives available, such as homemade ice cream.
If you're trying to limit your calorie intake, it helps to cut out sugary foods that add little nutritional value to your diet. However, sometimes you want to pamper yourself with a tasty treat. Ice cream, when enjoyed in moderation, is perfectly acceptable as such a treat.
Breaking Down Ice Cream Calories
According to the USDA, a plain scoop of vanilla ice cream equals about half a cup and provides roughly 137 calories. It also boasts about 2.31 grams of protein, 7.2 grams of fat and 15.5 grams of carbs.
However, once you start adding flavors to plain ice cream, its calorie content will go up. For example, chocolate chip cookie dough ice cream has a higher calorie count than plain vanilla ice cream due to the cookie toppings added. One-half cup contains about 150 calories compared to 137 calories from vanilla ice cream. There are also slightly more carbs from sugary additives, with 19.2 grams of carbohydrates versus 15.5 grams of carbs, respectively.
Even higher in calories is Ben & Jerry's Chubby Hubby, which has about 340 calories. This flavor has a higher fat content, at around 21 grams of fat per scoop of ice cream. The extra fat adds more calories. To put it simply, the more ingredients you add to your ice cream, the more calories it is going to have.
If you're thinking that these calorie counts are not excessive, keep in mind that the current serving size for ice cream was revised from half of a cup to two-thirds of a cup. The change comes from the habitual over-serving of ice cream scoops.
Your local ice cream parlor probably serves more than half a cup as a scoop of ice cream, or you may not be satisfied with just one serving. According to a September 2017 study published in Preventing Chronic Disease, consumers often find it difficult to calculate how many calories, carbohydrates, protein and fat are in food just by looking at the nutrition label.
Choose a Healthier Option
The typical base of ice cream is milk. U.S. federal regulations state that ice cream must have at least 10 percent dairy milkfat to be considered ice cream, so if you order a scoop you know that fat is included. While 10 percent is the minimum percentage of milkfat required, some ice cream brands provide more than that. Those with the highest fat content either contain whole milk or include high-fat toppings like cookie dough or peanut butter.
The major problems with ice cream are the added calories, mostly from fat and sugar, and the lactose. Since ice cream is made from milk, you should stay away from it if you're lactose-intolerant. Eating a dairy product like milk, which contains lactose, may cause stomach pain, nausea, bloating and diarrhea.
If you can't eat dairy, you can try non-dairy frozen yogurt, ice cream made from nut-based milk or avocado ice cream. These options use ingredients other than milk and its derivatives. Some avocado ice cream brands are vegan.
If carbs are your concern, many manufacturers are now offering low-carb alternatives. Added sugar in ice cream, whether it comes from the food itself or added toppings, can be harmful to your health.
For example, a September 2015 study published in Critical Reviews in Laboratory Sciences has linked sugar consumption with type II diabetes and heart disease. Researchers concluded that it didn't matter whether the sugar came from food or beverages.
When consumed in excess, this nutrient may increase the risk of metabolic diseases, as noted in the above review, If sugar is a concern for you, either opt for lower-carb options or make ice cream at home.
Making your own ice cream allows you to control what goes into it. You can buy an ice cream maker and use sweeteners like splenda or stevia for extra flavor. You may also use non-dairy milk, like almond milk or coconut milk, which are packed with nutrients and contain no lactose. All of these options are lower in sugar than traditional ice cream and can satisfy your sweet tooth without the guilt.