A daily treadmill routine is an excellent way to lose weight and stay in shape. Knowing how many calories you are burning per hour allows you to set targets, and also provides a great deal of motivation.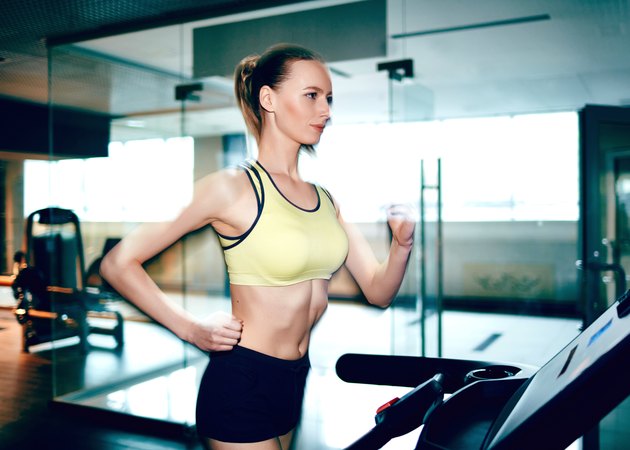 Weight Differences
Energy output varies depending upon factors such as physical stature, age, weight and physical condition, according to a study by the Ferst Research Center of Piedmont Hospital. In general, heavier people burn more calories than lighter, leaner people. A person weighing 155 pounds will burn 298 calories per hour walking at 3.5 miles per hour, while a person weighing 185 pounds will burn 356 calories per hour at the same speed says Harvard Health Publications.
Intensity
Increasing the treadmill walking rate from 3.5 to 4.5 miles per hour will lead to a significant increase in energy output. A person weighing 185 pounds burns 356 calories per hour at the lower speed, and 444 calories per hour after the speed increase. The Diet Health Club website gives an approximate rule of thumb, stating that for every mile an hour you speed up your belt, you can burn about 100 calories more per hour.
Increasing Energy Output
Increasing speed is not the only way to burn more calories. Increasing the treadmill's degree of incline and using hand weights will also increase the number of calories burned per hour, says the Exercise Equipment Expert website.
Treadmill Calorie Counter
Be aware that not all built-in treadmill calorie calculators give an entirely reliable figure. You can buy a handheld calorie counter if you want to double-check your energy expenditure.