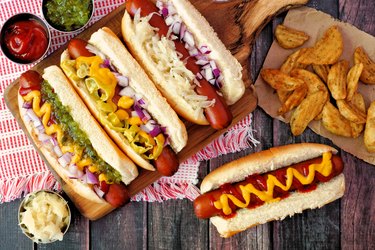 The Costco food court offers many snack and meal options such as pizza, frozen yogurt, churros and fruit smoothies. Many of these items are high in calories and should be consumed in moderation if you're maintaining your weight and tracking calorie intake.
Pizza, Hot Dogs and Sandwiches
Costco offers three different types of pizza; pepperoni contains 620 calories per slice and 24 grams of fat; the combo variety has 680 calories per slice and 29 grams of fat; and a slice of cheese pizza boasts 700 calories with 28 grams of fat, according to LIVESTRONG's food database MyPlate. Hebrew National and Polish sausage hot dogs contain 550 and 570 calories per serving, plus 34 and 33 grams of fat respectively. The Turkey Wrap has 810 calories and 38 grams of fat.
Desserts
The food court of Costco stores has many high calorie desserts, such as frozen yogurt at 390 calories and zero grams of fat; a churro at 470 calories and 22 grams of fat; and a Berry Sundae with 410 calories and zero grams of fat, according to MyPlate. However, the highest calorie item is the Ice Cream Bar which contains 870 calories and 65 grams of fat.
Beverages
Beverage calories can be reduced by choosing the hot mocha (310 calories and nine grams of fat) or latte (190 calories and five grams of fat) over the iced versions; the mocha freeze contains 320 calories and seven grams of fat, while the latte freeze has 240 calories and seven grams of fat. You can also save 10 calories by choosing the fruit smoothie at 290 calories per serving over the strawberry banana smoothie at 300 calories; neither of these beverages contain any fat.
More About MyPlate
The free LIVESTRONG MyPlate calorie tracker app for iPhone and Android has helped millions of people lose weight the healthy way — by getting support from an active community as they track their eating and exercise. Consistently a top-rated app, MyPlate offers the latest technology in an easy-to-use tool that includes millions of foods and recipes, 5-minute in-app workouts and a robust support community.