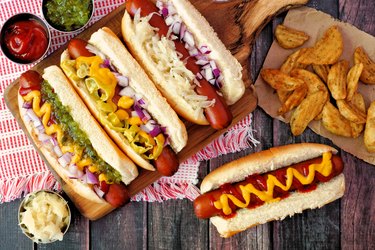 The Costco food court offers many snack and meal options such as pizza, frozen yogurt, churros and fruit smoothies. Many of these items are high in calories and should be consumed in moderation if you're maintaining your weight and tracking calorie intake.
Pizza, Hot Dogs and Sandwiches
Costco offers different types of pizza. Here's how their calorie counts stack up, according to Fitbit:
Pepperoni: 710 calories per slice and 28 grams of fat
Carne: 900 calories per slice and 43 grams of fat
Combo: 760 calories per slice and 31 grams of fat
Cheese: 760 calories per slice and 30 grams of fat
If you'd rather opt for a hot dog, sausage or sandwich, you have several options:
Hot turkey and provolone sandwich: 740 calories and 34 grams of fat
Turkey wrap: 830 calories and 37 grams of fat
Italian sausage sandwich: 610 calories and 35 grams of fat
Polish sausage: 970 calories and 32 grams of fat
Bratwurst: 980 calories and 36 grams of fat
Hot dog (with soda): 960 calories and 32 grams of fat
The food court of Costco stores has many high-calorie desserts, such as a churro at 530 calories and 21 grams of fat and a berry sundae with 480 calories and 0 grams of fat.
Calories from drinks can be reduced by choosing the hot mocha (270 calories and 13 grams of fat) or latte (130 calories and 5 grams of fat) over the iced versions: The mocha freeze contains 310 calories and 6 grams of fat, while the latte freeze has 190 calories and 7 grams of fat.