Over age 50, natural changes in the digestive tract make it difficult to absorb a sufficient quantity of some nutrients, such as vitamin B-12, even if you get plenty through your diet. Additionally, the recommended intake for calcium, vitamin D and vitamin B-6 increases for women at age 51. Taking a daily multivitamin helps ensure you won't have to worry about nutritional deficiencies.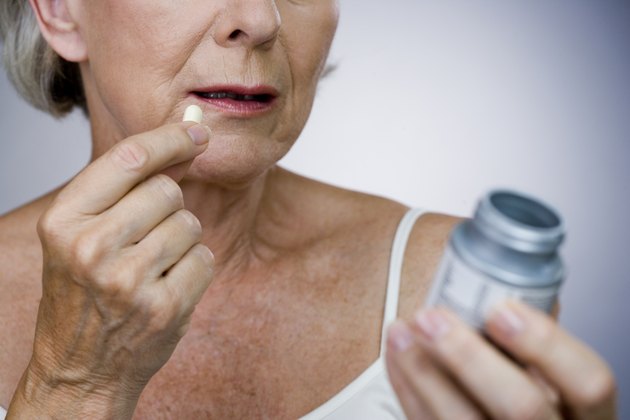 Multivitamins for Women Over 50
When choosing a multivitamin, you can go with any standard brand, as long as it has the United States Pharmacopeia -- or USP -- seal of approval, recommends the Harvard School of Public Health. The USP seal indicates that the supplements have been independently tested and verified and that they contain the ingredients listed on the label and are free of harmful levels of contaminants.
One company, called LabDoor, purchases supplements off the shelf, sends them to independent labs for testing, then scores each supplement according to their system, which considers nutritional value, labeling accuracy, projected effectiveness, purity and safety. The top multivitamins LabDoor recommends for women over 50 are Rainbow Light Rejuvenage 40+, MegaFood Women Over 40, Kirkland Signature Adults 50+ and One A Day Women's 50+ Healthy Advantage.
These four brands of multivitamins represent the diverse ingredients found in supplements. The quantity of nutrients varies quite a bit among brands, and some have herbal extracts in addition to essential vitamins and minerals. You can compare the daily value for each nutrient per brand, but if you're not sure which mix of ingredients is best for your health, consult a registered dietitian. In the meantime, one way to choose a multivitamin is to be certain it has the right quantity of four key nutrients for women over 50 -- vitamin B-12, vitamin D, calcium, and vitamin B-6.
Choose Multivitamins With Sufficient Vitamin B-12
Vitamin B-12 activates enzymes involved in normal nerve functioning, production of red blood cells and DNA synthesis. As a result, a deficiency in vitamin B-12 can cause anemia and nerve damage. The body also uses vitamin B-12 to reduce blood levels of the amino acid homocysteine; that's a good thing because lower levels decrease your risk for cardiovascular disease.
When consumed in its natural form from food, vitamin B-12 is attached to a protein, which requires a different digestive process than other nutrients. In the first step of B-12 digestion, stomach acid is essential to separate it from the protein. This step is a problem for approximately 10 to 30 percent of people over 50 who have atrophic gastritis and who don't produce enough stomach acid for thorough digestion.
Atrophic gastritis interferes with digestion of vitamin B-12 from food, but it doesn't affect absorption from multivitamins, because synthetic B-12 isn't bound to protein. If you're over age 50, the Institute of Medicine recommends getting most of your vitamin B-12 from multivitamins or fortified foods. Women who are 50 or older need 2.4 micrograms of vitamin B-12 daily.
Vitamin B-12 is not known to be toxic in large doses, but your multivitamin doesn't need to provide more than 100 percent of the daily intake because the body can't absorb more than 1 to 2 micrograms at a time, reports the Office of Dietary Supplements. For this reason, you may want to use multivitamins that don't contain mega doses so that you can take two doses rather than one dose daily.
Multivitamins Protect Bones Over Age 50
Estrogen is vital for building and maintaining bones. As women reach menopause and their estrogen levels drop, their risk of developing osteoporosis increases. Bone is normally lost at a gradual rate during midlife, but the loss rapidly escalates in the first four to eight years after menopause, reports the NIH Osteoporosis and Related Bone Diseases National Resource Center; this loss then continues at a slightly slower pace for the rest of your life. When women reach age 51, the recommended dietary allowance for calcium increases from 1,000 milligrams to 1,200 milligrams daily, so it's important to take a calcium-rich multivitamin. Multivitamins should contain no more than 500 milligrams of calcium per dose because that's the greatest amount your body can absorb and use at one time.
In addition to calcium, maintaining strong bones depends upon getting vitamin D because it is needed to absorb calcium. Vitamin D also helps prevent other chronic diseases. For example, sufficient levels of vitamin D are associated with normal blood pressure and a lower risk for type 2 diabetes. On the flip side, low levels of vitamin D may contribute to cognitive problems associated with aging, according to studies cited by Oregon State University.
Women over 50 have a greater chance of being deficient in vitamin D because their skin can't synthesize the same amount of vitamin D as it could during a their younger years. It's estimated that 20 to 100 percent of older adults are low in vitamin D, reported Oregon State University. The recommended dietary allowance up to age 70 is 15 micrograms or 600 international units daily. After 70, women should boost their intake to 20 micrograms or 800 international units. A multivitamin should contain at least 100 percent of your daily intake, but don't buy supplements that have more than 4,000 international units or 100 micrograms because that's the safe upper intake to avoid toxicity.
Vitamin B-6 Requirements Over Age 50
Vitamin B-12 isn't the only B vitamin that protects cardiovascular health by lowering blood levels of homocysteine. Vitamin B-6 also helps, but it converts homocysteine using a different path, which means you need both B vitamins to keep homocysteine as low as possible. Vitamin B-12 turns homocysteine into the amino acid methionine. Vitamin B-6 is used to metabolize about half of all circulating homocysteine into cysteine, which is then used to produce the powerful antioxidant glutathione, reports Life Extension. Since high blood levels of homocysteine damage arterial walls, creating areas susceptible to plaque buildup, it's important to get vitamin B-6 through supplements if you don't consume enough through your diet.
You also need vitamin B-6 for other health benefits, as many enzymes can't do their jobs without it. These vitamin B-6-dependent enzymes help synthesize hemoglobin for red blood cells, metabolize fatty acids and glucose, and they're used to make brain chemicals, such as serotonin and tryptophan, which regulate mood and sleep-wake cycles, respectively. At age 51, the recommended dietary allowance for women increases from 1.3 milligrams to 1.5 milligrams daily.
Oregon State University reports that older adults consuming fewer than 2 milligrams daily are more likely to have low blood levels of vitamin B-6 compared to those who get 2 to 3 milligrams daily. Vitamin B-6 obtained from supplements can build up to toxic levels, so your multivitamins should not contain more than 100 milligrams.