Chinese food is a nice alternative to pizza, and it can be delivered to your door just as readily. The Center for Science in the Public Interest gives Chinese restaurants credit for dishes with healthy fare, such as vegetables, seafood and poultry, as well as using unsaturated fat in the preparation of some dishes.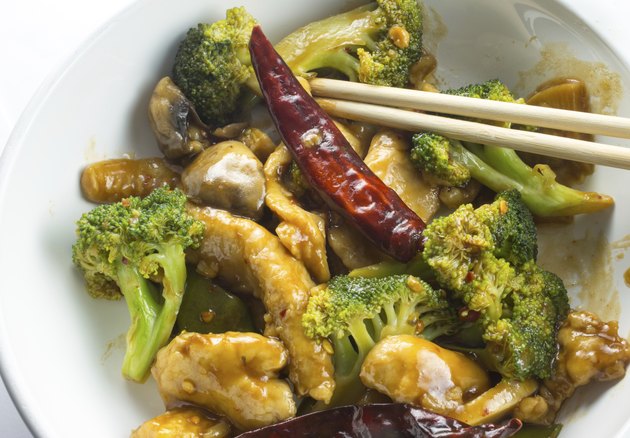 Nutrition
According to the Calories Control Council, many Chinese dishes are nutritionally balanced and low in calories and fat. However, some dishes are high in both fat and calories, especially those that are battered, breaded or deep-fried.
Chicken and Broccoli
Chinese chicken and broccoli is an excellent choice if you're watching calories. Not only is it a good source of protein and fiber, but a one-cup serving has only 280 calories. You can request the sauce on the side to avoid eating more sauce -- and calories -- than you want.
Other Options
Other low-calorie choices include chow mein with steamed, roasted or broiled meat or seafood; chop suey; moo goo gai pan; and steamed vegetables. Some restaurants highlight the light menu options that feature steamed meats and vegetables.