A three-egg ham and cheese omelet contains 300 to 500 calories. The cheese and eggs supply the largest number of calories, but you can use low-fat cheese and substitute egg whites to keep the calories down.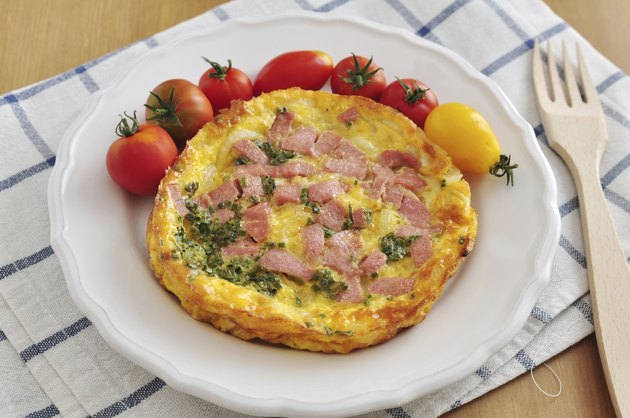 Ham and Eggs
If you use a 28-gram slice of 11 percent fat ham, you're adding 46 calories to your omelet. Three large eggs contain 216 calories. You can reduce the calories in your omelet by substituting an egg white for one of the eggs. Two whole eggs plus one egg white contains 161 calories.
Cheese
One-half cup of shredded cheddar cheese contains 228 calories, 1 ounce of brie contains 95 calories, while 1 ounce of pasteurized, processed, reduced-fat cheese contains 68 calories.
Oil
To fry your omelet, the lowest calorie option is a 3-second spray of nonstick cooking spray, which adds only 2 calories. A tablespoon of unsalted butter will add 102 calories, while canola oil adds 124 calories per tablespoon.