Injectable vitamin B12, or cyanocobalamin, is used to treat or prevent deficiencies in people who are unable to absorb the oral form from the intestines. Although vitamin B12 can be injected under the skin, the preferred method is the intramuscular route. This means the medication is injected deep into muscle through a needle. Several muscles can be used, and selecting the best site depends on the age of the patient and who will be giving the injection.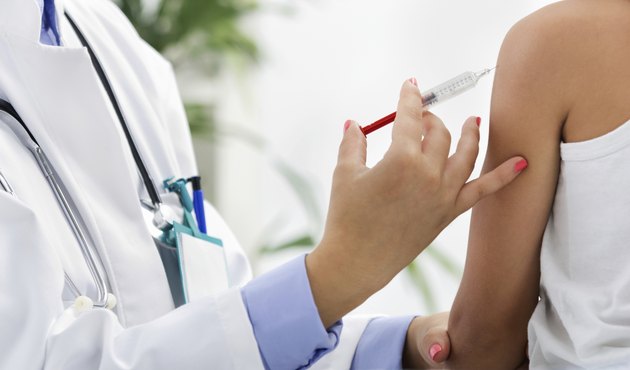 Outer Hip
The ventrogluteal site -- on the side of the body above the hip joint -- is the preferred site for adults and children over 7 months of age. This site is a good choice because it lacks major nerves and blood vessels that could be accidentally damaged by an injection.
Thigh
The vastus lateralis muscle of the thigh is easy to reach for self-injection. It is located midway between the knee and groin, just outside the midline of the thigh. It is the recommended site for newborns and infants and can be used for children and adults.
Upper Arm
The deltoid muscle in the shoulder is an alternative site that can be used in adolescents and young to middle-aged adults for injections of 1 mL or less. It can also be used in older adults as long as the muscle is well-developed.
Buttocks
The dorsogluteal site on the upper, outer buttock has been traditionally used for intramuscular injections. However, it lies over the sciatic nerve and major blood vessels, which could be damaged if accidentally injected. This site is no longer recommended unless the other sites are injured, infected or cannot be reached, perhaps because of a cast.