Starting with Stacker 3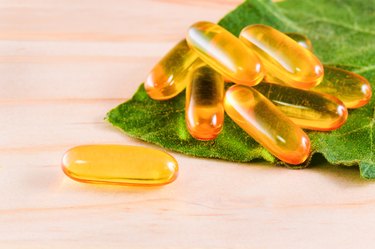 Stacker 3, developed by NVH Pharmaceuticals, is a combination of fat blocking ingredients including caffeine, chitosan and aspirin. Procured from shellfish, chitosan is meant to aid in the fat blocking process by preventing certain fats from being absorbed and processed into the body as calories. The aspirin and caffeine serve as a stimulant to boost metabolism, which makes burning fat and calories a quicker process from the very first dose. When taking this supplement, a standard 10 to 20 minute time frame is normal for you to feel the difference in alertness and mental acuity. At first, you may be a little jittery; however, with continued use, this should subside.
Benefits
According to its manufacturer, Stacker 3 boosts metabolism and blocks unwanted fats from being broken down into calories. Among the claims, it boosts energy, increases mental awareness and overall clarity. It has been reformulated in recent years and no longer contains ephedra, since a national ephedra ban was put into place in 2007. However, since it has been removed, the effects of the medication have not changed. Stacker 3's fat burning properties go into effect action from the first dose, and after the first week, you should see a difference on the scales. Physical changes like a reduction in waist size may take a little longer to become noticeable.
Dosage and Results
When taking Stacker 3, you should take no more than three pills a day. Dosage instructions state that you should take one at each meal, but remember, if you take one too close to bedtime you will not be able to sleep because of the amount of caffeine in each pill. Most people who have taken Stacker 3 report a two to three week time period before physical results are noticeable; however, the mental awareness and energy boosts were immediately evident.
Weight lifters have known about the effects of aspirin and caffeine combinations for a while now, seeing their metabolic rates quickly increase. Combined with chitosan, the fat blocking properties and metabolic rate increase has made Stacker 3 one of the most popular diet pills on the market, today.