While some fad-diet gurus may denounce carbohydrates as the root of all edible evil, the truth is that your body needs these nutrients to function properly. If your diet lacks carbs, you could feel rundown and face a variety of health woes. Rather than shunning carbohydrates, strive to obtain them from healthy, unprocessed sources that also provide a wealth of vitamins and minerals.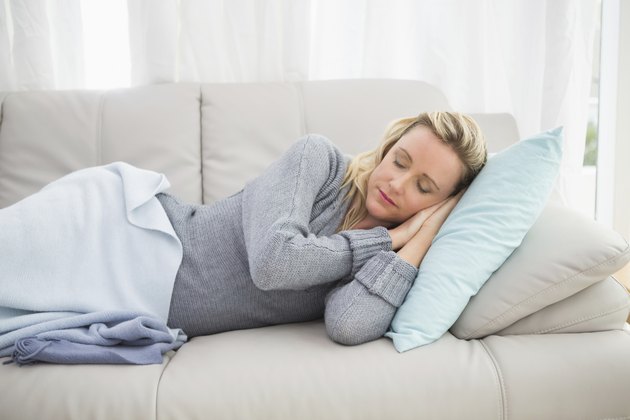 Energy Crash
Carbohydrates are your body's primary energy source, so you may feel sluggish if you don't eat enough of them. Your body converts carbs into a form of sugar called glucose, which it uses for immediate energy. It also stores excess glucose as glycogen in your muscles and liver for later use, such as during exercise. Therefore, you may peter out quickly on your walk or jog if you deprive yourself of carbs. Glucose is also your brain's preferred fuel, so when supplies get low you may have trouble concentrating.
Digestive Distress
Fiber is an important type of carbohydrate that's lacking in the average American diet. You need fiber to aid in digestion and may become constipated with low intake. Low-fiber diets are also linked to diverticulosis, a condition in which small pouches form in the colon that may cause abdominal bloating and cramping. These pouches can also trap pieces of stool, leading to diverticulitis, an illness symptomized by infection and inflammation of the colon. In rare cases, diverticulitis can be serious enough to require hospitalization.
Possible Kidney Trouble
When carb supplies are low, your body creates extra ketones, which are fat byproducts that provide an alternative fuel source. Ketones are toxic in large amounts, so your kidneys must work harder than usual to flush them from your system. Low-carb diets also tend to be high in protein, creating additional byproducts that your body must flush. These effects may place excessive strain on your kidneys, possibly leading to serious damage.
Carbs the Healthy Way
The daily value for carbohydrates in a 2,000-calorie diet is 300 grams, compared to just 65 grams of fat and 50 grams of protein. Refined carb sources such as white bread, white rice and pastries are short on fiber, vitamins and minerals, however, and also spike your blood sugar because they're rapidly absorbed into the bloodstream. For healthier carb intake, turn to whole grains such as whole-wheat or whole-rye bread, brown rice, oatmeal and popcorn. Fruits and vegetables are also nutritious carbohydrate sources, so include these in each meal.