About one-half of U.S. adults take dietary supplements, with multivitamin-mineral products, calcium supplements and omega-3 or fish oil being the most common choices, reports a March 2013 article in "JAMA Internal Medicine." While most people take supplements primarily to maintain or improve health, some supplements can cause side effects. Constipation is a common side effect of the minerals calcium and iron and a rare side effect of too much vitamin D. Certain herbal therapies and weight-loss supplements can also cause constipation.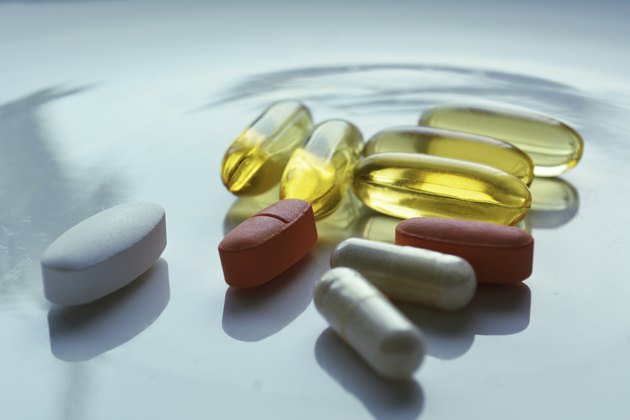 Iron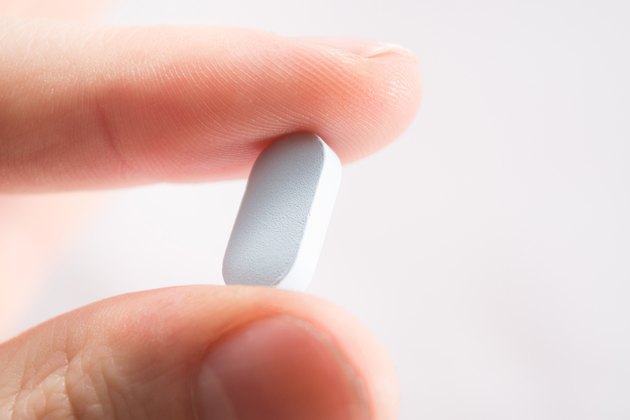 Many multivitamins with minerals contain iron, typically providing 100 percent of recommended daily amount of iron. Iron-only supplements are often recommended if you have a deficiency. The higher doses recommended to treat iron-deficiency anemia make constipation more likely. If you experience constipation from supplemental iron, you may benefit from a smaller dose, taking the iron tablets with food, or trying a different type of iron supplement. Discuss your side effects and possible solutions with your doctor, as these tips may reduce the amount of iron absorbed by your body.
Calcium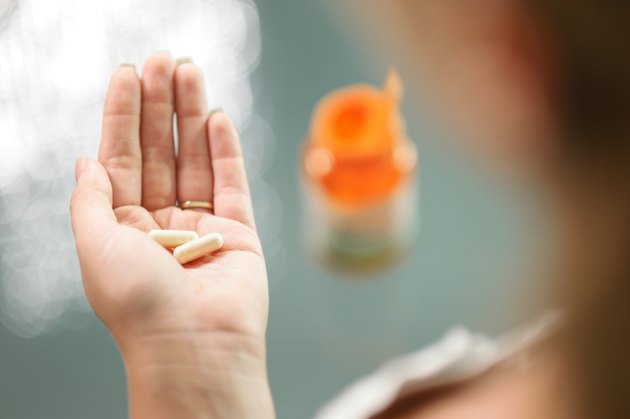 Calcium, a supplement for bone health, has also been reported to cause constipation. A study in the April 2006 "Archives of Internal Medicine" reported that constipation was present in 13.4 percent of older women taking 1,200 mg of calcium daily, compared with 9.1 percent in women not taking supplemental calcium. Taking calcium in divided doses at meals or including more calcium from foods and less from supplements are helpful ways to minimize this side effect. Drinking more fluids and increasing dietary fiber can also limit or prevent constipation. Additionally, calcium citrate is less likely to cause constipation than calcium carbonate.
Vitamin D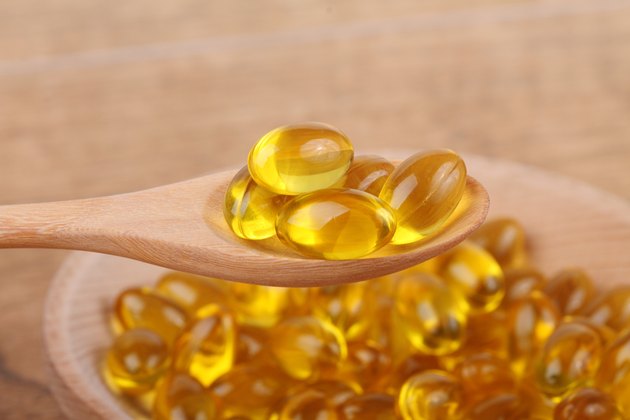 A March 2009 report in the "Archives of Internal Medicine" noted that only 23 percent of adolescents and adults in the United States have adequate blood levels of vitamin D. Because of its role in bone health and other possible benefits, vitamin D is widely available as a supplement. Vitamin D toxicity causes high blood calcium levels and the related symptom of constipation. However, a study published in the May 2015 issue of "Mayo Clinic Proceedings" reviewed more than 20,000 vitamin D blood tests over a 10-year period and concluded that vitamin D toxicity from supplements is very rare.
Herbs and Supplements
The U.S. Food and Drug Administration estimated there were more than 55,000 dietary supplements on the market in 2012, each with possible side effects. Certain supplements touted for weight loss -- such as chitosan, green tea extract and large doses of chromium -- are linked to constipation. Any supplement that works like a water pill could put you at risk for dehydration and lead to constipation. If you are interested in taking an herb or supplement, discuss potential risks, benefits and side effects with your doctor, pharmacist or dietitian.
Safety Tips
While constipation is typically not a life-threatening symptom, it can be painful, uncomfortable and affect the quality of your life. If your constipation is related to your dietary supplement, there are steps you can take to minimize this side effect. However, because certain medical conditions and prescription drugs can also cause constipation, it's best to have your symptoms evaluated by a doctor. Seek immediate medical care if you have constipation with severe abdominal pain, fever or vomiting.