Walking in water can be effective exercise for people of different ages and fitness levels. You start walking in waist-deep water and then move deeper in the water to increase the difficulty of your workout. Wear a flotation belt to keep balanced and upright when you water-walk in depths over your head.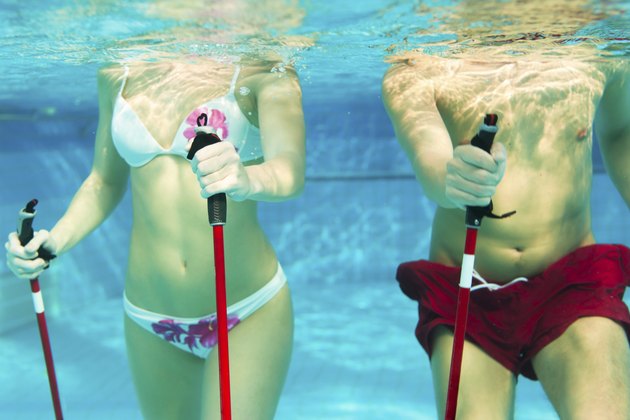 Benefits
Water-walking or jogging provides you with maximum aerobic benefits without the wear and tear of high-impact exercise such as running. People with joint pain, limited mobility and those recovering from injury benefit from water exercise.
Calories Burned
Water-walking or jogging burns 563 calories per hour if you weigh 155 pounds, and 654 calories an hour if you weigh 180 pounds. Water-running burns 11.5 calories per minute in comparison with running on land, which burns about 8 calories per minute, according to The Sunday Times.
Water vs. Land
You work harder against the resistance of water to move forward than you do on land, says Dr. Robert Wilder, physiologist and the director of sports rehabilitation at the University of Virginia, because water is 800 times denser than air. You build muscle and improve cardiovascular health water-walking, but combine it with weight-bearing exercise to build strength and maintain bone density.