Taking control of your health could be as simple as walking 40 minutes a day. This type of aerobic exercise, performed consistently throughout the week, offers numerous benefits. Whether you're seeking enhanced heart health, better sleep, a mood boost, weight loss or other health improvements, a daily walk could be the path to greater health.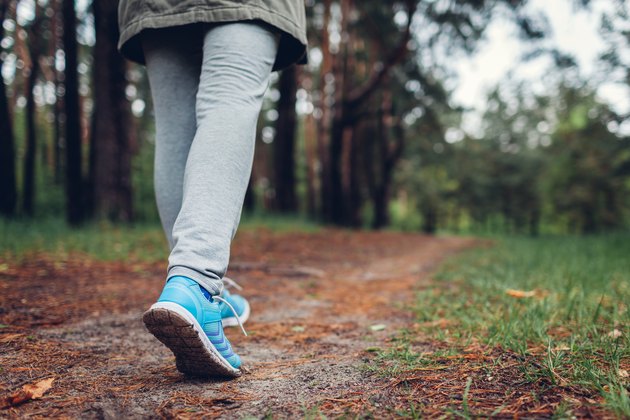 Tip
Walking 40 minutes a day burns calories and benefits your heart, your mood, your sleep and more.
Recommended Physical Activity
To meet the minimum Physical Activity Guidelines recommended by the U.S. Department of Health and Human Services, you should get at least 150 minutes per week of moderate-intensity physical activity. You can gain even greater health benefits by doubling that amount to 300 minutes weekly. By walking 40 minutes a day, you may experience even better results.
It's also possible to increase the intensity level of your physical activity and experience the same benefits. For example, instead of a 40-minute walk, you could run or cycle for 20 or 30 minutes. If you exercise at a greater intensity, you can cut your total exercise time in half and get 75 to 150 minutes of vigorous aerobic activity a week.
If you wish, you can also combine moderate and vigorous activity throughout the week to achieve your recommended weekly minutes, or even perform aerobic exercise in shorter segments twice a day. If you're walking 40 minutes a day for weight loss, you might want to experiment with different intensity levels to see what kind of results you can achieve.
Benefits of Walking
As an aerobic exercise, walking is a cardiovascular activity that helps your body in numerous ways. Walking burns calories, controls your weight, benefits your immune system, improves mood, combats depression, regulates blood sugar and enhances sleep.
Walking also helps to strengthen your heart and allow it to pump blood more efficiently throughout the body, while also lowering blood pressure. Meanwhile, it works to raise the levels of "good" high-density lipoprotein cholesterol in the body and lower the levels of "bad" low-density lipoprotein cholesterol.
Walking for Weight Loss
Aerobic exercise, such as walking, can help you stay in shape, too. Walking for weight loss is an attainable goal, as it's a low-impact activity that's easy to incorporate into your day. For example, you can add a few extra steps to your walking routine by taking the stairs, parking farther away or walking to the store instead of driving.
Walking burns calories at a moderate pace, helping you to either lose or maintain your weight. Walking a mile burns about 100 calories, and you need to burn about 3,500 calories to lose 1 pound. You can increase the intensity and potentially burn more calories either by walking briskly on an incline or running part of the route.