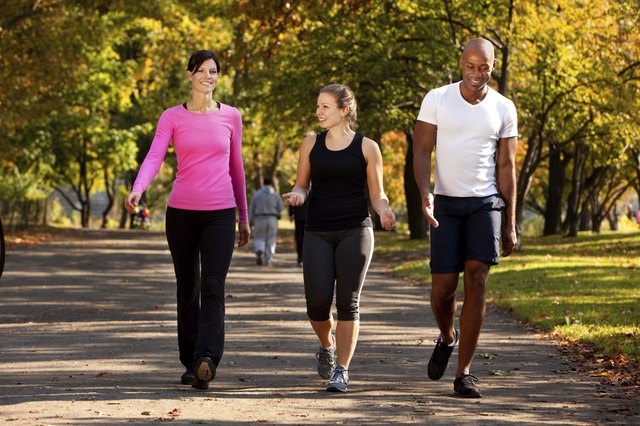 Walking is an exercise that people have enjoyed for centuries. It is safe, and the risk of injury or strain is lower than it is with other types of exercise. The cost involved in walking is low, because you just need a pair of comfortable shoes, or you may even walk barefoot. Walking for 40 minutes a day yields numerous benefits, and you can begin to experience these soon after you begin your walking routine. Consult your health practitioner before beginning any exercise program to assure that you do not have health conditions or limitations that affect your ability to exercise safely. Your health practitioner may also help you develop a walking program that is tailored to your needs.
Weight Loss
Weight loss is one key benefit that you can experience when you walk for 40 minutes a day. You can lose weight throughout your body, including your abdomen, hips and legs. With walking, weight loss tends to occur at a steady, healthy pace that is not too fast or slow. How much you lose, and how quickly, depends on factors such as your walking speed and intensity. For more weight-loss benefits, pick up your pace and swing your arms as you walk.
Disease Prevention
Walking can help to prevent many diseases and illnesses, including heart disease, high blood pressure and diabetes, according to the Better Health Channel. It can also help boost healthy cholesterol and ease back pain. Walking daily can also strengthen your bones, which is an important benefit, given that having weak and deteriorating bones can lead to serious conditions such as osteoporosis.
Mental Benefits
Walking can boost your mood and ease or prevent depression and anxiety. It helps to dissolve stress. It can also aid concentration, mental focus and therefore productivity in your work and personal life. Try splitting up your 40 minutes of walking throughout the day by taking breaks for short walks a few times daily. You might find that this clears your thoughts and mind so that you can get back to your tasks in a refreshed and vital state.
Environment
When you take your daily 40-minute walks outdoors, you breathe fresh air, away from stale indoor air. Breathe deeply while walking to experience this benefit more fully. You also feel the nurturing warmth of the sun on sunny days and can receive vitamin D from the sun. You can enjoy the stimulation and beauty from nature and your surroundings. Also, you can experience the benefits of social interaction with neighbors and other people as you walk.
Recommendations
If you are just beginning to exercise, start slowly by taking short walks a couple of days per week. Gradually build up to walking 40 minutes every day. If you cannot walk outdoors because of weather or some other reason, you can do your daily walks on a treadmill or a rebounder, which is a mini trampoline. Take some simple precautions to keep yourself safe and healthy while enjoying your walking routine. Make sure your shoes fit properly, are comfortable and provide you with proper stability. Walk on sidewalks, trails or other areas away from traffic, and proceed with caution and alertness when crossing streets.