Switching to a fruit and vegetable diet might be exactly what you need to lose stubborn fat and boost your energy. Don't worry, though — this doesn't mean you have to give up meat, fish and dairy completely. Do it for just a few days and see how you feel. Think of it as a way to cut calories, improve your diet and give your digestive system the nutrients it needs.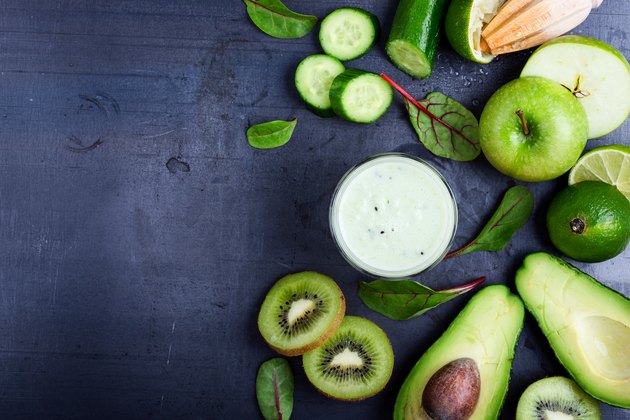 Why Eat Fruits and Vegetables?
Have you ever heard of the Five-a-Day campaign? It's a global movement that encourages the consumption of at least five servings of fruits and vegetables a day. Health organizations worldwide have embraced this approach to increase awareness of the benefits of plant-based foods.
The campaign is based on guidelines from the World Health Organization (WHO), which state that eating a minimum of 14 ounces of fruits and veggies each day may help prevent diabetes, cancer, obesity and nutrient deficiencies. The same source states that 14 percent of gastrointestinal cancer deaths, 11 percent of heart disease deaths and 9 percent of stroke deaths worldwide are due to low fruit and vegetable consumption.
A meta-analysis published in the July 2014 edition of the_ BMJ,_ which involved more than 833,000 participants, confirms that eating around five servings of fruits and vegetables a day increases lifespan and improves overall health. The average risk of death from all causes decreased 5 percent for each additional daily serving of fruits and vegetables. Furthermore, the risk of dying from heart disease was reduced by 4 percent for each additional daily serving.
In another study cited in the same review, people who ate at least five servings of fruits and vegetables a day had a 26 percent lower risk of stroke than those who consumed fewer than three servings each day. As the researchers point out, these foods are rich in antioxidants that reduce cholesterol oxidation and improve blood lipids. They also contain magnesium, potassium, vitamin C and other micronutrients that may help prevent premature death.
Sometimes, More Is Better
A fruit and vegetable diet could provide even more benefits than eating just five servings each day. In this case, more is better, according to a February 2017 meta-analysis published in the International Journal of Epidemiology. Researchers suggest that eating up to 1.7 pounds of fruits and veggies a day (about 10 portions) may decrease the risk of coronary heart disease by about 24 percent, the risk of stroke by 33 percent and the risk of all-cause mortality by 31 percent.
The review authors estimate that daily consumption of 1.1 to 1.7 pounds of fruits and vegetables combined may prevent 5.6 to 7.8 million premature deaths globally. They also analyzed which types of fruits and veggies were the most beneficial and offered the greatest protection against chronic diseases. Citrus fruits, apples, pears, leafy greens and cruciferous vegetables, for example, have been proven effective in the prevention of stroke, heart disease and premature death.
Another research paper, published in the Iranian Journal of Public Health in October 2015, has linked fruit and vegetable consumption to a reduced risk of chronic illnesses. Furthermore, these foods may prevent obesity and weight gain in the long run. High-vegetable diets seem to be more effective for weight loss.
Terms like "fruit detox" or "fruit and veggie cleanse" have negative connotations. In general, they refer to unhealthy dietary practices that involve starvation, severe calorie restriction, juicing, colon cleansing and the use of dietary supplements that may not be safe. As the National Center for Complementary and Integrative Health notes, detox and cleansing programs lack scientific support.
A fruit and vegetable diet, on the other hand, can improve your health. The key is to keep your meals varied and meet your nutritional needs.
Consume a wide range of fruits and veggies rather than limiting yourself to a particular fruit or vegetable, such as lemon or cabbage. After all, we've all heard about the grapefruit diet, the cabbage soup diet or lemon detox diets — but these so-called detox plans are not nutritionally sound.
Fruit and Vegetable Diet Tips
Keep Your Diet Varied
A balanced diet should provide 2,000 to 3,000 calories per day for men and 1,600 to 2,400 calories per day for women, according to the USDA Dietary Guidelines. The more active you are, the higher your calorie intake should be.
To meet these guidelines, eat nutrient-dense fruits and vegetables on a daily basis. Avocado, for example, provides 80 calories, 1 gram of protein, 4.2 grams of carbs, 7.3 grams of fat and 3.4 grams of fiber per serving. Green peas (cooked) boast 62 calories, 8.5 grams of protein, 25 grams of carbs, 0.3 grams of fat and 8.8 grams of fiber per serving (1/2 cup).
Don't be afraid to experiment in the kitchen. A fruit and vegetable diet is anything but boring. You don't have to live off salads or give up your favorite treats. The key is to find healthier substitutes.
Craving potato chips or crackers? Try baked kale or zucchini chips instead. Satisfy your sweet tooth with a delicious fruit salad topped with homemade strawberry glaze — use stevia instead of sugar for extra flavor.
Salads can be delicious too. Get your creative juices flowing and experiment with hearty vegan recipes, such as spicy cucumber salad, vegan taco salad with chickpeas, roasted butternut squash salad with lime, or fennel asparagus salad with avocado.