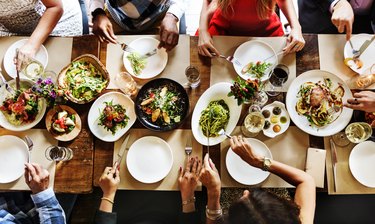 Knowing how many calories you should be eating at each meal is a helpful step in planning out your meals. This knowledge will also assist you in not overeating and may help you to lose weight.
Daily Calories
To figure out how many calories per day you should eat, use an online calorie calculator, such as the one provided on the American Cancer Society website. This number will be based on your weight, gender and activity level.
Divide Calories Evenly
One way to determine how many calories to eat at each meal is to divide your calories evenly per meal, allowing yourself some calories for snacks. For example, if your calorie goal is to eat 1800 calories daily, you might want to eat 500 calories at each of your three meals -- 150 calories during your morning snack and 150 calories during your afternoon snack.
Tapering Calories
Another option is to taper your calories throughout the day, eating several small meals every couple of hours. For example, if you allow yourself to eat 1800 calories each day, FitWatch recommends eating 450 calories at your first and second meals, 360 calories at your third meal and 270 calories at your fourth and fifth meals.