Low-carb diets can help you lose weight, but if you've hit a plateau, you may need to make a few tweaks. Combining Weight Watchers with your low-carb diet may help you gain control over portions, which might get you back on track. Before you jump in with both diet plans, it's important to have a good understanding of what you can eat on your low-carb diet so you know how to best use Weight Watchers SmartPoints for the results you want.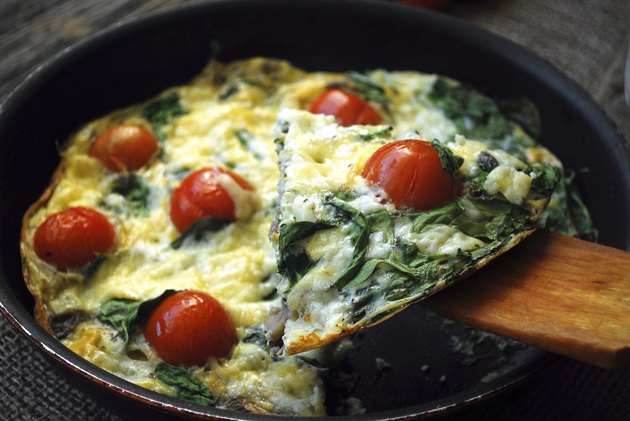 Low-Carb Diet Basics
There are no clear guidelines for what constitutes a low-carbohydrate diet. Typically, they start with a very-low-carb phase, restricting you to 20 to 50 grams a day for at least two weeks to kick-start fat burning. Then, carbs are increased so that you continue to lose, but they're limited to no more than 150 grams a day.
To keep carb intake low, you're eating mostly carb-free protein foods such as meat, poultry, eggs and seafood, along with low-carb veggies such as spinach, lettuce, broccoli, green beans, mushrooms, asparagus and peppers. Cheese, fats such as butter and oil and low-carb fruits such as avocados, pumpkin and olives are also allowed.
Weight Watchers SmartPoints
Instead of calories, you count points when following Weight Watchers. The current point system is called SmartPoints. Foods are assigned a point value based on calories, protein, saturated fat and sugar content. The goal of the SmartPoints system is to encourage you to eat more lean protein, fruits and vegetables and less sugar and saturated fat.
To help you get more of the good stuff, fresh fruits and veggies have zero points on the Weight Watchers plan. Chicken breast has 1 point, shrimp and salmon 2 points, sirloin steak 3 points and New York strip 5 points. A tablespoon of olive oil has 4 points, while the same serving of butter has 3 points. One-third of an avocado has 3 points.
Tips for Making Your Weight Watchers Plan Low-Carb
Combining both the low-carb diet and Weight Watchers point system might help you restrict carbs for fat burning while teaching you how to control portions, make healthier protein choices and eat more veggies. To keep things simple for meal planning, use the low-carb guidelines when selecting foods, and then assign the Weight Watchers points as appropriate.
How many daily SmartPoints you need is based on your activity and goals, and it's determined by the folks at Weight Watchers through their online program or in-person meetings. To get the most bang out of your point values, choose leaner sources of protein. And while most fresh fruits and veggies have zero points, you need to be mindful of their carb value and eat more of the low-carb options from your low-carb list or use a carb counter to stay within your limits.
What a Typical Day Might Look Like
If you've been assigned 28 SmartPoints, you might have a three-egg omelet filled with 1 ounce of cheddar cheese, five sliced cherry tomatoes and 1 cup of cooked spinach for breakfast. This morning meal has 10 SmartPoints and 5 grams of net carbs. For lunch, top 2 cups of mixed greens with 1/2 cup of cucumbers, 1/2 cup of red peppers, half a Haas avocado, 3 ounces of sliced, grilled chicken, 1 tablespoon of balsamic vinegar and 1 tablespoon of olive oil for 9 SmartPoints and 13 grams of net carbs. A grilled 3-ounce portion of sirloin steak with a grilled portobello mushroom and 2 cups of broccoli sauteed in 1 tablespoon of olive oil and garlic makes a good low-carb, Weight Watchers-appropriate dinner with 7 SmartPoints and 10 grams of net carbs.