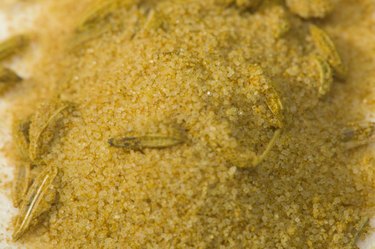 Musli Power Xtra is an herbal remedy for sexual dysfunction produced and marketed by Kunnath Pharmaceuticals. The main ingredient in the product is safed musli, an herbal remedy that is used in the Southern Rajasthan, Northern Gujarat and Western Madhya Pradesh regions of India to treat sexual and immunological diseases. While there has been some scientific study on the sexual and health benefits of safed musli, it is not an FDA-approved drug and its side effects or contraindications are unknown. The product also contains Indian herbal supplements such as kapikachu, muringa and aswagandha, all of which are purported to be sexual stimulants. Consult with your physician before consuming Musli Power.
Negative Side Effects
Kunnath Pharmaceuticals states on its website that Musli Power Xtra has no known negative side effects and is safe for human consumption because it is made entirely from organic herbal ingredients. The company claims that the product is safe for people with high blood pressure, breastfeeding mothers and people with rheumatoid arthritis. However, the company does not provide medical research to substantiate these claims and little scientific evidence is available regarding the safety of this product.
According to psychologist Janice B. Swanson on the Mayo Clinic website, there is little proof that most substances thought of as natural aphrodisiacs actually work. Swanson adds that research into these products is very limited and precautionary measures must be taken before consumption to avoid potential health risks, including seeking the opinion of a trained physician who knows your current health situation, medical conditions and any medications you may be taking.
Free Radicals
While Mulsi Power Xtra is primarily marketed to treat impotence and other forms of sexual dysfunction, one additional effect may be a reduction of free radicals in your body. Free radicals are believed to advance age-related diseases such as atherosclerosis, thickening of artery walls due to cholesterol and other fatty materials. Some studies have shown safed musli, scientifically known as Chlorophytum borivilianum, to be effective as an antioxidant that neutralizes free radicals in the body.
A 2010 study at Sardar Patel University in India concludes that the in vitro use of a safed musli solution has "significant powerful antioxidant activity" that may reduce the occurrence of free radicals in the body. The study does not speak to oral consumption of products like Musli Power Xtra having the same effect, however, and more research is needed regarding the product.
Heart Disease
Further research carried out at Sardar Patel University in Gujarat, India, suggests that safed musli may be effective at controlling cholesterol levels in the blood. Research published in the March 2007 edition of "Clinical and Experimental Pharmacology & Physiology" concluded that a daily dose of 0.75 to 1.5 grams of Musli Power in male albino rats significantly raised high-density lipoprotein cholesterol levels. High-density lipoprotein cholesterol -- sometimes called "good cholesterol" -- helps to reduce the occurrence of heart disease.
The main active ingredients in safed musli are saponins, which have been shown to have antimicrobial, antifungal and cholesterol-reducing effects when consumed in diet. However, dosage and drug or food interactions for the saponins and other naturally occurring chemicals in Musli Power have not been scientifically tested. Kunnath Pharmaceuticals claims that Musli Power Xtra does not have any contraindications, but fails to provide independent testing results that led to this conclusion.
Is this an emergency? If you are experiencing serious medical symptoms, please see the National Library of Medicine's list of signs you need emergency medical attention or call 911.