According to the American Diabetes Association, we can all benefit from the concepts found in most traditional Asian cuisine. Authentic Asian diets typically contain low-calorie foods that can help you lose weight. However, the only weight-loss plan that will work for you is the one you can follow long-term. Try out an Asian diet for a week to decide whether it's something you can commit to.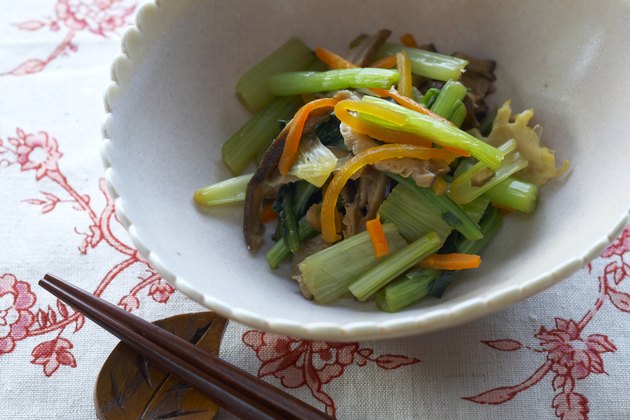 Basic Concept of Asian Diets
Most Asian diets focus heavily on vegetables and grains, with a healthful amount of proteins. They also include smatterings of oils, fruits and sauces. Vegetables such as broccoli, cabbage, mushrooms and chili peppers are encouraged in every meal, including breakfast. Egg noodles and buckwheat noodles, also known as soba noodles, are common grain options in Asian diets, but rice is the backbone grain of most meals. Meat, fish and other protein choices are used sparingly and served in small portions, such as side dishes. Fish is a common and healthful protein choice -- include it at least twice weekly in your diet.
Types of Asian Food
Customize your diet by Incorporating meals from several Asian countries. For example, India and many South-Asian countries serve flat breads like pita in addition to rice and other grains. Japanese dishes often focus heavily on fish and white rice. Thai menus commonly feature curry sauce and richer ingredients like coconut milk. Mix and match elements of Asian cuisines to make your diet healthier. For improved appetite control, opt for fiber-rich, whole-grain alternatives like brown rice , buckwheat noodles or roti, a whole-grain Indian flat bread. Search recipe websites and Asian cookbooks for ideas.
Sample Meals and Menu
A 1,850-calorie day's menu on an Asian diet might begin with a breakfast bowl containing 1 cup cooked white rice, 4 ounces of tofu, 1 cup of chicken broth and 1 cup of broccoli, served with 1 cup of orange juice. For lunch, make a stir-fry with 3 ounces of chicken, 1/2 teaspoon vegetable oil, 1/2 cup of chopped tofu and 1 cup of bok choy served over 1 cup of white rice, then eat a medium orange for dessert and drink 1 cup of apple juice. Dinner might contain a blend of 2 cups mustard greens, 4 ounces of boiled pork and 1 cup of broth served with a banana for dessert.
How to Get Results
No diet or miracle food will melt away your fat in a week. Weight loss is a gradual process, and you should aim to lose about 1 pound weekly. No matter the diet, you'll get results if you balance your nutrition, use portion control, eliminate high-calorie beverages and eat more non-starchy vegetables. Switch to unsweetened green tea for most of your beverages, and use herbs and spices to flavor your foods instead of fats and salt. Limiting your calorie intake will also greatly benefit your weight-loss efforts. "U.S. News" states that the average Asian diet features about 1,600 calories a day, which is a healthful goal for both men and women.