Ensure is a nutrition drink that contains most of the nutrients humans need daily. It is marketed to help people take in each of the vitamins and minerals that are needed for good health, and the makers of the product claim doctors recommend it for individuals with nutritional deficiencies or those with certain health conditions. Ensure is also frequently used to help people with certain conditions, or who have trouble eating solid food, to help maintain a healthy body weight.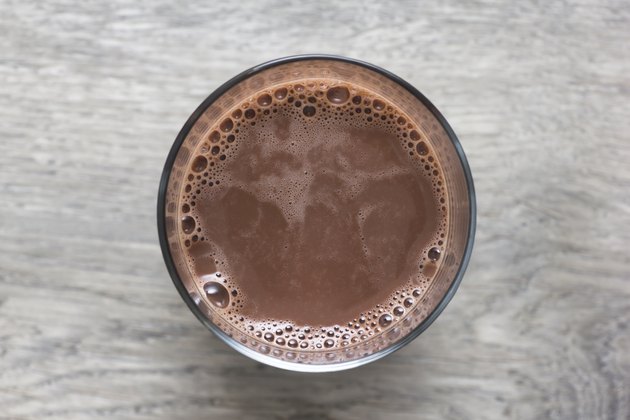 Although some people drink Ensure simply because they like the way it tastes or in place of taking a traditional multivitamin, its high sugar content makes it less than ideal as a regular feature of a healthy diet.
Source of Protein and Healthy Fats
Ensure contains oils, such as soy oil and corn oil, that contribute to the 6 grams of fat in an 8-ounce serving of the drink. The drink contains poly- and monounsaturated fats, which can help improve your heart health. Corn maltodextrin is another ingredient; it's an additive used as a sweetener and is considered safe by the U.S. Food and Drug Administration. Ensure also contains soy protein isolate, which is responsible for the 9 grams of protein in one serving.
Sugar Content Could be a Problem
Sugar is one of the major ingredients in a bottle of Ensure, second only to water. In fact, an 8-ounce serving of Ensure contains between 18 and 23 grams of sugar, depending on the flavor. That translates to between 4.5 and 5.75 teaspoons of added sugar. These amounts are closing in on the daily 6-teaspoon sugar limit for women and the daily 9-teaspoon limit for men recommended by the American Heart Association. When you consume too much sugar, you're likely to gain an unhealthy amount of weight, which raises your risks of heart disease and Type 2 diabetes.
Plenty of Vitamins and Minerals, but...
An Ensure supplement drink has 24 vitamins and minerals added. For example, an 8-ounce serving supplies 390 milligrams of potassium, which is about 8 percent of the 4,700 milligrams you need each day. You'll also get a good dose of vitamins A, C, D, E and K, as well as niacin, riboflavin, copper, magnesium, iodine and calcium in each 8-ounce serving of Ensure. Although Ensure contains a plethora of vitamins and minerals, it's important to keep in mind the concept of bioavailability, which refers to how much of these Ensure nutrients your body can actually absorb.
Watch Your Sodium Intake
Because it has a sweet flavor, you might be surprised to discover that an 8-ounce serving of Ensure contains almost 200 milligrams of sodium. That's 13 percent of the 1,500 milligrams of sodium you should limit yourself to each day, as recommended by the American Heart Association. Too much sodium raises your blood pressure, and that can leave you susceptible to heart disease and stroke. And if you're already fighting high blood pressure, you should probably talk to your health care practitioner before consuming Ensure on a daily basis.